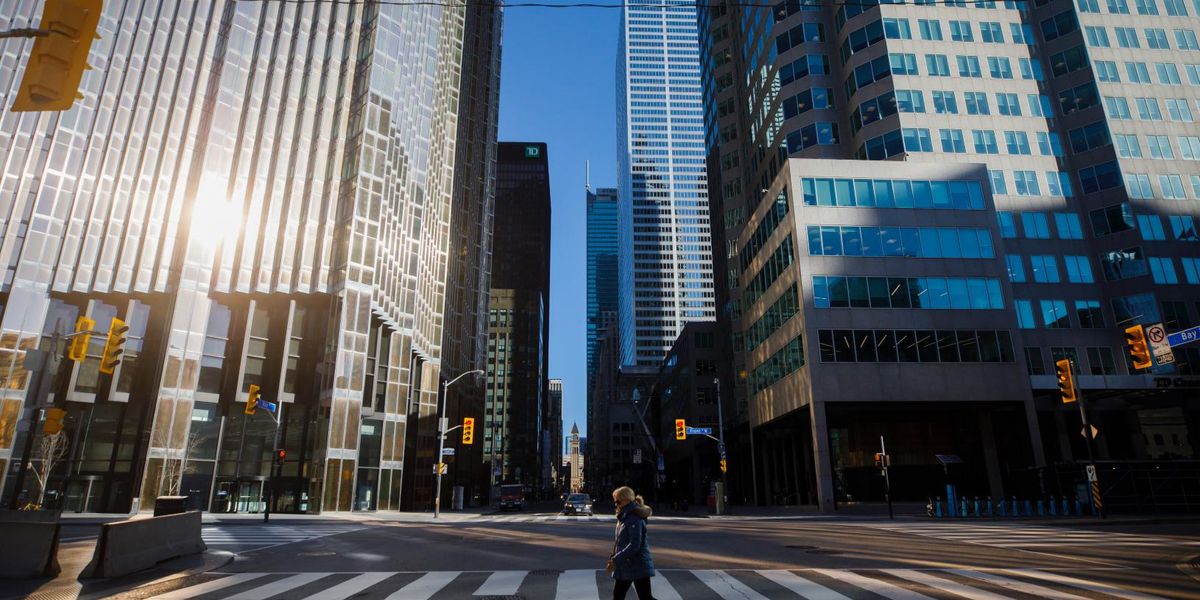 According to reports, Canada's third wave of COVID-19 is "killing faster and younger" and is being driven by a new variant of the coronavirus.
According to Insider's report on Sunday, the country's third wave is affecting young people more than ever before, and health experts believe this is due to the emergence of a new COVID-19 mutant strain.
The booming wave triggered new lockdowns and coronavirus restrictions across the country.
Are there any details?
Last Saturday, Canada had more than 1
million confirmed cases of COVID-19, and the hardest hit areas (such as British Columbia, Ontario and Quebec) are implementing new restrictions to reduce the spread of the deadly virus.
The country's chief public health officer, Dr. Lishan Tan, recently announced that COVID-19 cases involving variants of the new coronavirus have increased by 64%, 90% of which include B.1.1.7 and P1 variants.
The media added: "Especially Ontario has reported that many young patients are flooding into the intensive care unit." "Officials announced this week that nearly half of the COVID-19 ICU patients in the province are under the age of 60."
This week, Adalstein Brown, a senior scientific adviser to the Ontario government, announced that these variants "kill faster and younger."
Brown revealed: "It spreads much faster than before, and we can't get vaccinated quickly enough to break the third wave."
According to Insider, Ontario has instituted a one-month "emergency brake" measure in response to the increasing infection.
The media reported: "The new restrictions will close sports halls, indoor dining venues and personal care services."
Quebec has implemented blockades in at least three cities and closed all schools and non-essential businesses. British Columbia has also temporarily banned indoor dining and church services.
Dr. Kashif Pirzada, an emergency services doctor in Toronto, told CNN that the spread is shocking.
Pilzada explained: "It spreads very fast and is much faster than the past two waves." "The people who fill the ICU now are in their 30s, 40s and 50s."
What else?
According to a CBC News report on Sunday, at the time of this report, the federal government has administered 6 million COVID-19 vaccines.
Purchasing Minister Anita Ananda told the Canadian Broadcasting Corporation (CBC) on Friday: "We expect that there will be millions more injections in the next few weeks and months" and said , It is expected that there will be at least 44 million doses of vaccine by the end of June.
In contrast, it is reported that as of Saturday morning, the United States has received at least 161,688,422 COVID-19 vaccines.
window.REBELMOUSE_LOWEST_TASKS_QUEUE.push(function(){
window.REBELMOUSE_STDLIB.loadExternalScript("https://assets.revcontent.com/master/delivery.js", function() {
});
});
window.REBELMOUSE_LOWEST_TASKS_QUEUE.push(function(){
//Facebook Pixel Code !function(f,b,e,v,n,t,s) {if(f.fbq)return;n=f.fbq=function(){n.callMethod? n.callMethod.apply(n,arguments):n.queue.push(arguments)}; if(!f._fbq)f._fbq=n;n.push=n;n.loaded=!0;n.version='2.0'; n.queue=[];t=b.createElement(e);t.async=!0; t.src=v;s=b.getElementsByTagName(e)[0]; s.parentNode.insertBefore(t,s)}(window, document,'script', 'https://connect.facebook.net/en_US/fbevents.js'); fbq('init', '1398069580413568'); fbq('track', 'PageView');
});
window.REBELMOUSE_LOWEST_TASKS_QUEUE.push(function(){
function menuClick() { console.log("clicked");
if (document.querySelector('.hambg-btn.js--active') != null) { document.getElementsByClassName('huge-menu')[0].style.display = 'none'; document.getElementsByClassName('hambg-btn')[0].classList.remove('js--active'); document.body.classList.remove("huge-menu-opened"); document.body.classList.remove("menu-opened"); } else{ document.getElementsByClassName('huge-menu')[0].style.display = 'block'; document.getElementsByClassName('hambg-btn')[0].classList.add('js--active'); document.body.classList.add("huge-menu-opened"); document.body.classList.remove("menu-opened"); } }
function addMenuClickListener() { var rebelMenu = document.getElementsByClassName('rebelbar__menu-toggle'); var menuClose = document.getElementsByClassName('hm__close'); var stickyMenu = document.getElementsByClassName('sticky-menu');
rebelMenu[0].addEventListener('click', menuClick);
if(menuClose[0] != undefined){ menuClose[0].addEventListener('click', menuClick);}
if(stickyMenu[0] != undefined){ stickyMenu[0].addEventListener('click', menuClick); } }
addMenuClickListener();
});
window.REBELMOUSE_LOWEST_TASKS_QUEUE.push(function(){
window.REBELMOUSE_STDLIB.loadExternalScript("https://assets.adobedtm.com/98de9919e92a38033805f9f035c43198533e4380/satelliteLib-38c7b1e4b1bb3e0378e82d10601662aebfb04eda.js", function() {
window.analyticsData = { events: {active: {view: {asset: {}}, device: {}}} }; window.analyticsData.events.active.device.appVersion = "1.1"; window.analyticsData.events.active.device.host = "premiere.off.us"; window.analyticsData.events.active.device.subHost = "theblaze.com"; window.analyticsData.events.active.pageName = "articles"; //window.analyticsData.events.active.view.asset.id = "articles|"+ __BOOTSTRAP__.post.basename; window.analyticsData.events.active.view.asset.name = document.title; //window.analyticsData.events.active.view.authorId = __BOOTSTRAP__.post.original_user_subsite.title; window.analyticsData.events.active.view.pubDate = "04/04/2021"; window.analyticsData.events.active.view.contentOriginType = "Premiere"; window.analyticsData.events.active.view.stationCallLetter = "TheBlaze"; window.analyticsData.events.active.view.stationFormat = "NEWSTALK"; window.analyticsData.events.active.view.stationMarket = "PREMIERE"; window.analyticsData.events.active.view.personalityId = "theBlaze"; window.analyticsData.events.active.view.tags = ["canada", "coronavirus-in-canada", "covid-19", "covid-19-variants"]; window.analyticsData.events.active.view.photoGalleryExists = "FALSE"; window.analyticsData.events.active.view.photoGalleryPageView = "FALSE"; window.analyticsData.events.active.view.contentFrame = "page"; window._satellite && _satellite.pageBottom();
});
});
window.REBELMOUSE_LOWEST_TASKS_QUEUE.push(function(){
function test_adblock(func, id) { var t="0.1.2-dev", el = document.createElement('div'); el.id = id ? id : 'sponsorText'; el.appendChild(document.createTextNode(' ')); Object.assign(el.style, { left: '-999px', position: 'absolute' }); document.body.appendChild(el); setTimeout(function() { if (el) { var o = el.clientHeight === 0; func(o, t); document.body.removeChild(el); } }, 200); } test_adblock(function(is_blocked) { console.log(is_blocked); var wid = is_blocked ? 140286 : 140117, target = document.getElementById('rc-adblock-widget'); var el = document.createElement('div'); el.setAttribute('data-rc-widget', ''); el.setAttribute('data-endpoint', 'trends.revcontent.com'); el.setAttribute('data-widget-id', wid); target.appendChild(el); if (typeof window.renderRCWidget !== 'function') { var script = document.createElement('script'); script.src="https://assets.revcontent.com/master/delivery.js"; script.defer = true; target.appendChild(script); } else { window.renderRCWidget(el) } });
});
window.REBELMOUSE_LOWEST_TASKS_QUEUE.push(function(){
(function(s,u,m,o,j,v){j=u.createElement(m);v=u.getElementsByTagName(m)[0];j.async=1;j.src=o;j.dataset.sumoSiteId='f20bb26e74a94a53daa9113206b98941e1dfba90635d317b9efd9e33a89bf515';v.parentNode.insertBefore(j,v)})(window,document,'script','//load.sumo.com/');
});


Source link