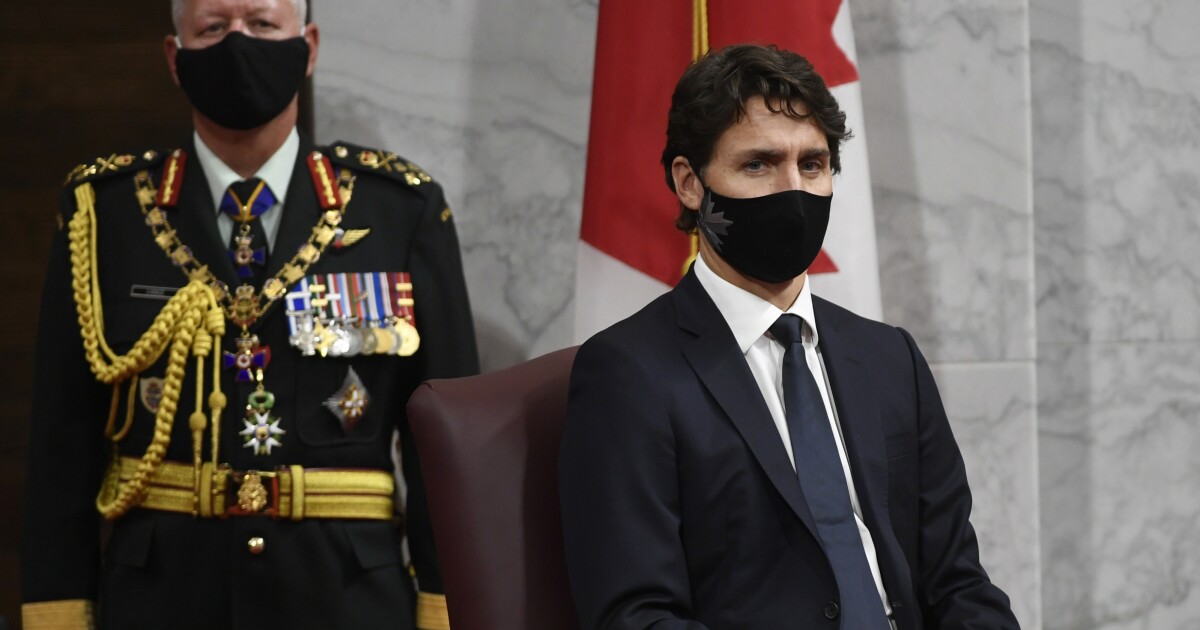 Prime Minister Justin Trudeau said on Wednesday that Canada is in the middle of the second wave of COVID-19 and warned that Canada is on the verge of autumn, which may be much worse than spring.
Trudeau pointed out that when Canada entered lockdown on March 13, there were 47 newly confirmed cases of COVID-19. On Tuesday alone, there were more than 1,000 cases in Canada. Throughout the summer, many provinces slowly reopened.
Trudeau said in a rare national television broadcast: "We cannot change the numbers of today or even tomorrow-these numbers have been determined by the decisions we made or not made two weeks ago."
;
"But what we can change is the October winter and winter. We probably won't meet for Thanksgiving [Oct. 12], But we still have a chance on Christmas Day. "
Trudeau urged Canadians to continue to wear masks and download the government's COVID application, which allows a person to know if they have been in close contact with someone who has tested positive.
He said: "We have the ability to control the second wave together."
Trudeau said that during the pandemic, his government will "do everything possible" to support Canadians and the economy, as his Liberal government set out government priorities for the new parliament in a speech earlier Wednesday.
If the three main opposition parties vote against Governor Julie Payette's official speech, it will trigger an election. But it is expected that at least one MP will support this speech.
The two leaders of the opposition party were unable to participate in the speech because they recently tested positive for COVID-19. In recent days, there has been a surge in cases in Canada.
The Governor called the pandemic the worst public health crisis in Canadian history. More than 9,000 Canadians died in six months. The government stated that the economic impact of COVID-19 on Canadians has become more severe than the 2008 financial crisis.
The government is extending Canada's emergency wage subsidy until next summer. At the beginning of the pandemic, Trudeau announced that for companies with a 30% reduction in income, companies will be eligible for 75% wage subsidies for their employees. The government said that now is not the time to tighten policies.
"Low interest rates mean we can afford it," Trudeau said. "Doing less will ultimately cost more. In the long run, doing less will mean a slower recovery and an increase in the deficit."
The Trudeau government also stated that the government plans to levy taxes on large Internet companies operating in the country.
Trudeau was re-elected last year, but his Liberal Party does not have a majority in Parliament and must rely on at least one opposition party to continue in power.
Erin O'Toole, who was elected leader of the Conservative Party last month, made a recording of Trudeau's National Day speech when he was quarantined at home after a diagnosis of Trudeau (COVID-19). O'Toole and his wife tested positive last week.
"So, my first important speech as the leader of the Conservative Party was at 1:30 in the morning. Now, my second is from the front porch and I am recovering from COVID. This is not the first month of my plan. "O'Toole said.
When referring to Trudeau, O'Toole said that Canadians need work, not words.
The leader of Bloc Quebecois, Yves-François Blanchet (Yves-François Blanche), is also in isolation after testing positive for COVID-19.
Candice Bergen, vice chairman of the Conservative Opposition Party, said earlier that her party would not support the "Throne Speech" and the left-wing New Democratic Party might support the government.
New Democratic Party leader Jagmeet Singh said that his party will take a long time to consider the throne speech.
Singh said: "I don't want a general election because I don't think it will help people."
window.fbAsyncInit = function() { FB.init({
appId : '119932621434123',
xfbml : true, version : 'v2.9' }); };
(function(d, s, id){ var js, fjs = d.getElementsByTagName(s)[0]; if (d.getElementById(id)) {return;} js = d.createElement(s); js.id = id; js.src = "https://connect.facebook.net/en_US/sdk.js"; fjs.parentNode.insertBefore(js, fjs); }(document, 'script', 'facebook-jssdk'));


Source link