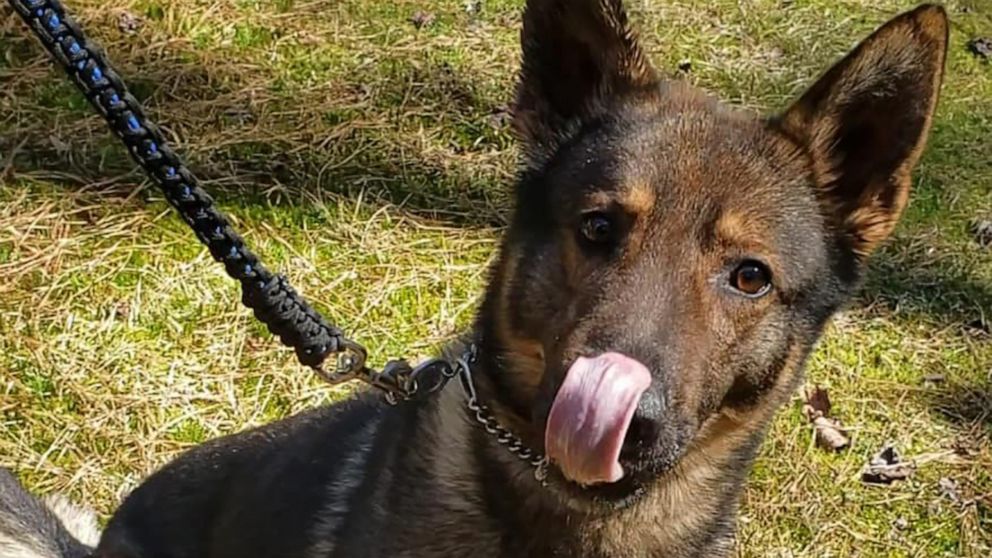 The officer resigned after being recommended to be fired.
The video shows that he accidentally injured K-9 during training, and a police officer in Salisbury, North Carolina has resigned.
After a week of investigation, the Salisbury Police Department announced on Wednesday that it determined that the police officer named James Hampton described in the video "behaved completely inconsistent with his K-9 training and violated the police department. Policy."
;
The agency said in a statement: "As a result, he was recommended to be dismissed." "The police department follows its disciplinary procedures and requires due process hearings on dismissed employees. After the hearing, the police department officially takes any action. Prior to the disciplinary action, the Hampton Police Officer's resignation took effect immediately. The Police Department of Defense did not incentivize or otherwise request the Hampton Police Officer's resignation, which he proposed as a right."
The agency added: "The Salisbury Police Department will continue to review our K-9 training operations, policies and procedures and align them with industry best practices."
Prior to the news of Hampton's resignation, the animal rights organization PETA sent a letter to the North Carolina Police Dog Association on Wednesday morning requesting that the officer's K-9 pilot state certificate be immediately and permanently revoked.
Daphna Nachminovitch, Senior Vice President of PETA, wrote: "This person's violent and abusive behavior towards his loyal K-9 partner shows that they have a serious lack of judgment and demeanor-public demands and K-9 should be obtained from human partners in law enforcement This quality." In the letter.
The video from the investigation center showed Hampton tied the leash to a police dog named Zul and dragged K-9 off the ground with his neck. When Zuul was suspended in the air, the police officer wrapped the dog around his back and swayed on his shoulders, and then walked to the patrol car. I heard someone outside the camera say: "We are fine, there are no witnesses." Others can be heard discussing the issue of turning off the camera.
Then it was seen that when Hampton tried to lift the K-9 into the vehicle through the tow belt, he smashed Zul into the side of the car. The police officer yelled at Zul and hit the dog on the head.
The videotape was nearly one minute long and was obtained by Charlotte ABC member WSOC and other local news stations about a month ago, but the incident allegedly occurred in October. The police have not yet confirmed when the video was taken.
On March 2, when the video footage surfaced, the Salisbury Police Department issued a statement stating that during the ongoing investigation, the person involved has been "administratively separated from the dog" and Zuul was "unharmed and healthy." And well taken care of, for."
The dog appeared at a press conference, and Salisbury Police Chief Jerry Stokes read the department's statement.
Stokes said: "It is important to understand that police dogs are trained to use force against suspects, and operators must ensure that they always have complete control over the dog so that any use of the dog in the wild is appropriate. And legal," Stokes said. "When the dog does not comply with the handler's order, the handler will be trained to correct the dog. Dog training strategies and corrective measures may sometimes cause contextual warnings."
Amid the public outrage over the viral video, PETA held a protest outside the Salisbury Police Station on March 5, demanding answers as well as criminal investigations and appropriate allegations. On the same day, the Salisbury Police Department issued another statement stating that Zul was taken to the veterinarian for "examination" on March 4 and "received a health certificate."
The agency added: "He is in good physical condition, happy and healthy, and took some leave."
Veterinary records issued by the Salisbury Police Department subsequently confirmed that Zuul went to an animal hospital in Concord, about 20 miles southwest of Salisbury, for a "semi-annual check-up" on March 4. The document stated that the three-year-old Dutch Shepherd "had had an accident involving the neck in October 2020", but was "in good condition" and "currently has no clinical signs". The document further stated that Zur "did not show significant musculoskeletal or nervous system damage in the October incident."
The examiner wrote in the document: "I don't think Zuul should be trained in police work."
Source link