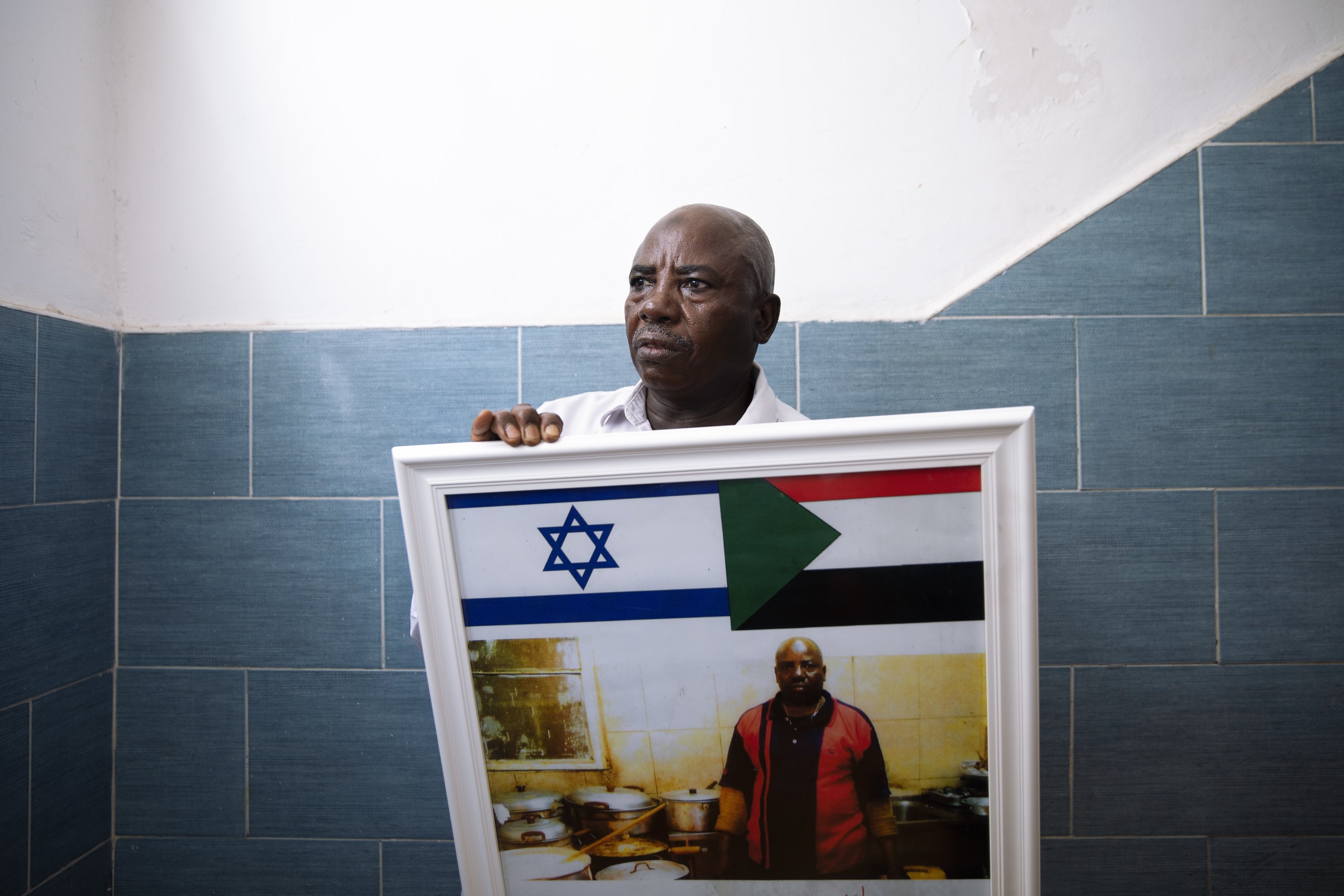 Tel Aviv, Israel (AP)—Usumain Baraka speaks Hebrew impeccably, considers the Israelis to be his best friends, and can quote from the Old Testament. But as a Sudanese asylum seeker, Baraka has no legal status in Israel and leads an unstable life, which is tied to the ideas of the Israeli government.
Now, after Israel and Sudan agreed to normalize relations, Barakah is once again one of the 6000 Sudanese in Israel, worried about their fate. Israel has stated that it will seek to resolve the immigration problem in the upcoming talks with Sudan, angering the entire community and making Israel fear that they may forcibly return them to Sudan because of conflict or persecution.
Baraka, 25, said: "If I come back tomorrow or the day after the official peace they are talking about, there will be me waiting there. That is dangerous."
;
Israel and Sudan announced earlier this month that they would normalize their relations, making Sudan the third Arab country to do so in many months.
This announcement satisfied the Israelis. However, after Israel's unsuccessful attempts to deport immigrants for many years, the Sudanese people have renewed their fears. Sudanese have long felt insecure in their adopted homes.
African migrants, mainly from Sudan and Eritrea, began to arrive in Israel through its porous border with Egypt in 2005, after the Egyptian army violently suppressed a refugee demonstration and spread news of security and employment opportunities in Israel. Thousands of people often cross the desert border on dangerous journeys.
Israel initially turned a blind eye to their influx, and many people engaged in trivial jobs in hotels and restaurants. But as their numbers surged, there was a strong response, with more and more people calling for the expulsion of newcomers.
Israel believes that the vast majority of immigrants are job seekers, and has stated that it has no legal obligation to keep them. Africans say that they are asylum seekers. They run for their lives and face new dangers if they return. Many people come from Darfur and other conflict areas.
The former leader of Sudan, Omar al-Bashir, was accused of genocide for the mass killings that took place in Darfur under his supervision. The area still suffers from tribal conflicts and rebel violence.
According to international law, Israel cannot forcibly return migrants to countries where their lives or freedom may be threatened. Critics accused the government of not trying to force them to leave.
Over the years, Israel has detained thousands of immigrants in remote desert prisons, left thousands of asylum applications, and provided cash payments to those who agreed to move to a third African country.
It also established a barrier on the border with Egypt, prevented the influx, and reached an agreement with the United Nations to resettle thousands of immigrants in Western countries while allowing thousands of others to stay Israel-Although the agreement was quickly cancelled under anti-American pressure. -Immigration activists and hard-line lawmakers.
The existence of immigrants has divided the country for a long time. Their supporters say that Israel is a country built on the ruins of the Holocaust, built by Jewish refugees, and should welcome those seeking asylum. Opponents claim that these immigrants have brought crime into the low-income communities in southern Tel Aviv where they settled. Some Israeli politicians label them as infiltrators. Some call them "cancers", threatening the Jewish character of the country.
"I believe they are economic immigrants, and they behave as if they own this place," said Shefie Paz, a well-known anti-immigration activist.
Publicly, Israeli leaders have been wary of their plans. Israeli Prime Minister Benjamin Netanyahu said on Sunday that the Israeli and Sudanese delegations will meet soon to "discuss cooperation in many areas, including cooperation in the field of immigration." A spokesperson for the Israeli Interior Ministry declined to comment.
A senior Sudanese military officer with direct knowledge of early contacts with Israel said that the issue of repatriation of migrants has not yet been discussed. He is anonymous because he has no right to discuss the matter in public.
After an Israeli court ruled that they were no longer in danger in their newly independent country, in 2012, Israel deported about 1,000 immigrants back to South Sudan. But activists say that some people have died of disease, while others have fled new conflicts.
Israel acknowledged in recent court proceedings that the situation in Sudan is still turbulent, and advocacy groups working with immigrants say that expelling them will face severe legal challenges.
"If Israel dares to publicly asylum and claim that it dares to deport Sudanese, it will seriously violate the most basic principles of the Refugee Convention," said Sigal Rozen, director of public policy at the refugee and immigration hotline.
She said that the Israeli leader may still be raising the issue to prompt some Sudanese to leave voluntarily.
The coronavirus pandemic has hit immigrants severely, and their work in restaurants and hotels is threatened by repeated lockdowns. Without proper status in Israel, they have no right to claim unemployment insurance. Rosen said that some sympathetic employers kept migrant workers in order to provide them with a lifeline.
In recent days, in the neighborhood where many immigrants in southern Tel Aviv live, a pedestrian street is usually bustling with shops and restaurants. Gray shutters sealed the entrances of many companies, and some immigrants wearing masks lingered.
Baraka fled Darfur after his father was killed in front of him. He settled in a camp for displaced persons on the border of Chad, then left the north for Libya and Egypt, traveling through wind and rain, smuggling through the desert to live in Israel for more than ten years.
He submitted an asylum application to Israel in 2013, and the application is still unresolved. Although he welcomes any agreement that can stabilize relations between Sudan and Israel, he doesn't think it opens the door for his return.
Baraka said: "I do believe what they are talking about, normalization between Sudan and Israel." "I support it, but we need to know who did it, when and how to do it. ."
Source link