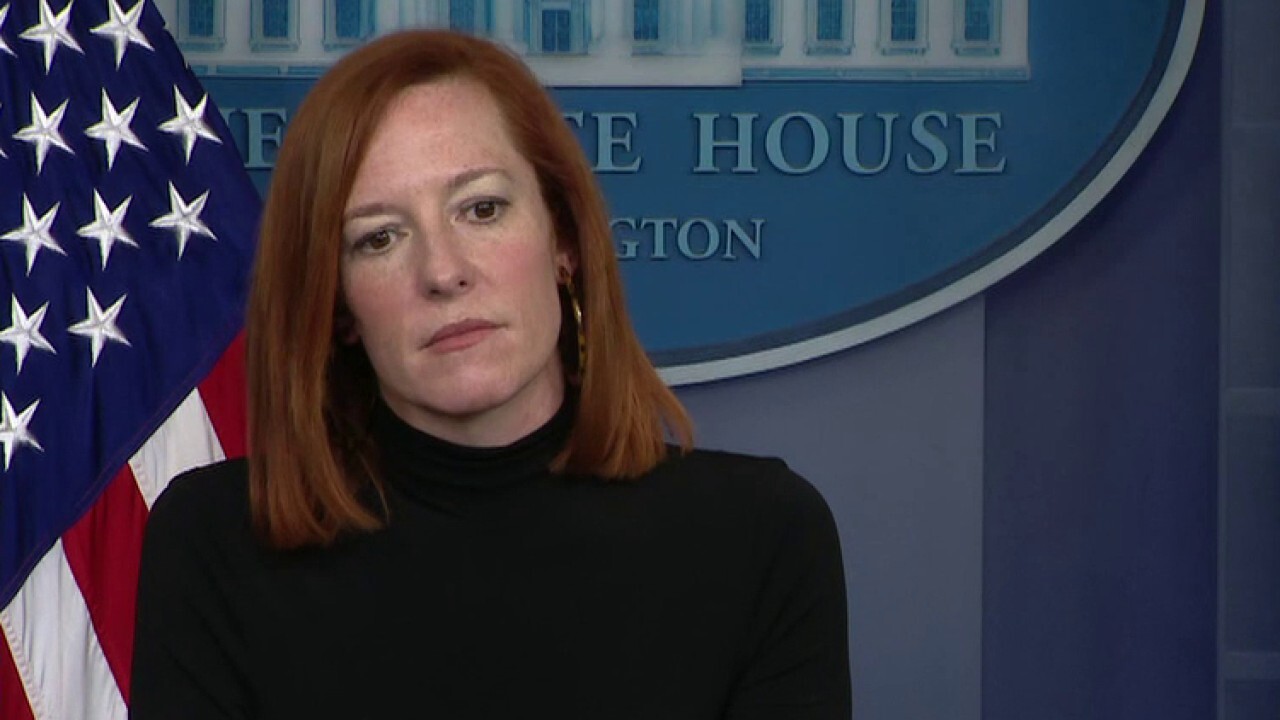 White House Press Secretary Jen Psaki defended President Biden's decision to launch an airstrike against Iran's support forces in Syria in retaliation for the recent attack on American soldiers, calling it an "appropriate military response".
On Thursday night, the U.S. armed forces carried out air strikes against two Shi'ite militants (Kait'ib Sayyid al Shuhada) and Kait'ib Hezbollah (Kait'ib Hezbollah) based on the Iraqi border. Suspected of collecting money from the Iranian Revolutionary Guards.
Psaki said in an official statement: "The Department of Defense briefed the leaders of Congress before the action last night. Today, the US government has been briefing Hill and Hill." "It will be held early next week at the latest. A comprehensive briefing."
;
U.S. air strikes against Iranian support forces launched in Syria
Psaki told reporters in a big laugh on Air Force One on Friday that the purpose of the strike was to convey a "clear message" about how Biden will protect Americans.
Psaki said: "He has the right to act in the way he chooses." He added that the United States has acted "in accordance with the right to self-defense" and called it "necessary."
Psaki said: "I can assure you that a thorough legal response will be taken." He added that Biden has "done for long enough without setting a red line." He said, "Take this action" is Military countermeasures in proportion. Including "consultation with alliance partners".
Psaki added that the president is committed to protecting American personnel.
The airstrike was the first known major military operation during Biden's administration. This move follows multiple attacks on the US military in the Green Zone, including two rockets that landed near the US Embassy in Baghdad.
The Green Zone houses government buildings, including the U.S. Embassy. The rocket attack was the third in a week and there were no casualties. A previous rocket attack in Erbil claimed the life of a civilian contractor and wounded several others and an American service worker.
A senior official said the operation was defensive in nature and aimed at deterrence. He called the attack "an arrow of a stone."
Pentagon Press Secretary John Kirby said on Thursday: "These strikes were approved in response to the recent attacks on U.S. and Allied personnel in Iraq and the continuing threats against them."
The strike was praised by some top Republicans, including senior members of the House Foreign Affairs Committee, Texas Rep. Michael McCall, and Right Ark Hill Rep. Frank Hill, who praised the airstrikes.
McCall said he "calls on" the Biden administration to "respond to recent attacks on US and Allied targets," adding: "I commend them for doing this."
The Iraqi Rockets attacked the killer contractor, wounded our service staff, and expressed their willingness
McCall continued: "Such a response is a necessary deterrent to remind Iran, its agents, and our global opponents, cannot tolerate attacks on American interests." "I thank you. [Biden] And our service members who protect Americans overseas. "
R-Fla. Senator Marco Rubio and RS.C.'s Lindsey Graham also participated in the Biden administration's strike on Twitter. Rubio called the attack "targeted, proportional and necessary."
Graham also praised Biden's decision to air strikes.
The South Carolina senator wrote on Twitter: "The Biden administration is grateful for the attacks in Syria by Syrian-backed militia groups, which have been attacking U.S. troops in Iraq and other regions." "The first priority is that our enemies know the offense. Americans have a price."
Graham added: "I very much support this strike and hope it will create the necessary deterrence in the future."
But progressives criticized the strike. Senator Bernie Sanders of the Senate said he was "very worried" that the strike would "put our country on the path of eternal war rather than ending it."
Sanders said in a statement: "This is the path that we have been walking for nearly two decades." "For a long time, both governments have explained their authority in an extremely broad manner to continue their presence in the Middle East. Continue military intervention in other areas. This must end."
Sanders added that in 2019, Congress passed the first "War Power Resolution" in history to end US involvement in the Yemen war.
He said: "Congress passed another such resolution in 2020 to prevent Trump from going to war with Iran." "This is an important historic step for Congress to re-establish the Constitution's authority over the use of force. Continue on the basis of hard work."
Sanders added: "Although the president has the responsibility to defend the American people, our Constitution clearly stipulates that it is Congress, not the President, who has the power to declare war."
At the same time, California Rep. Ro Khanna said: "Only when there is a Republican president in office, can we support Congress's authorization before a military strike."
Cana said on Twitter: "The government should have sought Congress's authorization here." "We need to work hard to get out of the Middle East, not to escalate."
Fox News' Houston Keene, Caitlin McFall and Jennifer Griffin contributed to this report.
Source link