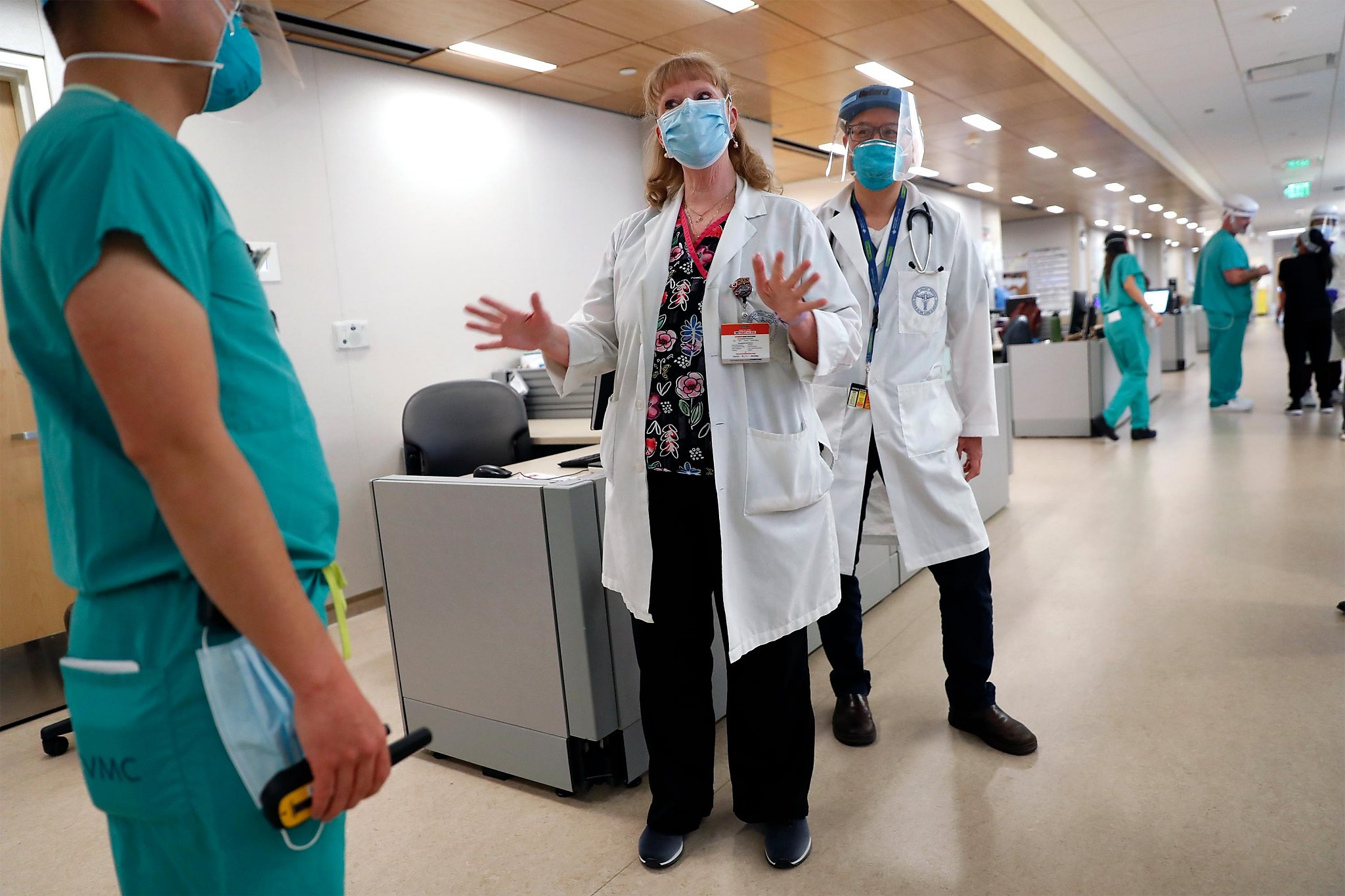 For several weeks, Suzie Minnich, an intensive care nurse, has been working on the front line of the Bay Area's latest COVID-19 surge in Santa Clara County, the most critical area of ​​the Bay Area.
On average, in January, an average of 154 people were admitted to the intensive care unit in Santa Clara County every day. Minnich, the nurse manager of the two intensive care units at the Santa Clara Valley Medical Center in San Jose, said that dealing with the flood of patients is "like work. In the quicksand."
She said: "I made a bed and there are already two patients waiting for it."
The number of people in the county's intensive care unit was nearly seven times higher than in October before the holiday, and hospital officials estimated that at least half of these patients had COVID-1
9.
The influx of people in need of intensive care has prompted administrators to hire doctors from outside the ICU to help.
"Usually, we don't even think about doing this because these doctors are not sufficiently trained to care for this type of patient," said Dr. Cliff Wang, director of the Department of Medicine at Santa Clara Valley Medical Center. He said, but now is an extraordinary time. Those doctors can take on tasks that free up time for ICU doctors, such as calling family members to ask about the patient's condition.
So far, Santa Clara County Hospital is the worst-hit hospital in the Bay Area. There are 37% more new patients in the ICU every day than in Alameda, the second saturated county. The county currently has an average of 113 new ICU patients every day for a month. , And the day in October is 19.
Although Santa Clara County provides the most services for patients in the new intensive care unit every day, it is the largest county in the Bay Area with 2 million residents, but since the holiday, every county in the region has experienced a huge leap It is 9 times, 10 times or even 17 times higher in some counties.
The rising numbers show that many people just ignore public health experts. They persuade them to stay at home during the holidays. If they don't protect themselves from disease, they must provide beds in the intensive care unit for emergencies. To a heart attack.
Not everyone listens.
"Christmas is my worst nursing week in ten years," said John Pasha, a nurse in the coronary intensive care unit, who works night shifts at Good Samaritan Hospital in San Jose. Ten years ago, when a magnitude 7.0 earthquake destroyed most of the country, Pasha went to Haiti for help.
He said that in a sense, this growth is even worse than that.
"I have never seen anyone go into respiratory arrest faster than people with COVID-19," Pasha said. "This person said they had trouble breathing. I looked away and turned around. The person is dead.
He said: "That's COVID." "That's really scary."
The intensive care unit and its specially trained doctors and nurses only accept the most severe patients. All ICU patients have their own room. Everyone is surrounded by life-saving equipment, sometimes as many as 15 IV pumps. Wires connect the patient to the monitor, and the monitor beeps and flashes important data streams about oxygen levels, heart rhythm, respiratory rate, and body temperature. And now, since family visits to patients are prohibited, the device portfolio includes a tablet on a tablet, so these visits are actually possible.
According to California law, each ICU patient can only share one nurse with another patient. But due to the surge in numbers, and due to nurses' opposition (that nurses are unsafe), state officials are now allowing hospitals to apply for exemptions from these rates. Despite the limitations, the patient's cramped ICU room is usually a crowded place because nurses and technicians will work together sometimes to safely roll over the patient twice a day, or when a group of doctors and other experts surround the patient to fight for the patient's life Time.
Minnich said that at least half of ICU patients at Santa Clara Valley Medical Center have COVID, many of whom are in their 40s and 50s-younger than she saw last spring.
Pasha, Minnich and Wang all described their colleagues in the intensive care unit (ICU) as unbelievable.
People are drained. tired. Everyone is stocking up," Wang said. "The extra shift means you don't go home regularly, and you can't sleep well because you know you can get calls anytime. "
He said that unlike the usual experience of dog fatigue in the intensive care unit, now "there are too many patients and you really don't have time to recover," he said.
A few days ago, Minnich was walking in the hall and saw a nurse next to the IV pump outside the patient's room staring somewhere, his shoulders bent.
"He looks tired," Minnich said. "I said,'Are you okay? Do you need help?' He said, "No, I'm fine. I said, "You hope this is over, don't you." He said: "Yes! "
She said that the 40 beds that Minnich is usually responsible for have increased by 5, but there is no guarantee that the ward will not be expanded. She manages about 140 nurses.
He said that in the entire town of Good Samaritan, Pasha worked 12 hours in shifts without rest. "We can't leave the patient because we have no one to replace us. There is no rest nurse. Usually, if the patient's condition worsens, we usually have a nurse who can respond quickly. We don't have any. There are no extra hands.
Minnich said that patients can stay in the ICU for several weeks at a time, sometimes even more than a month, which is long enough for doctors and nurses to understand and care about them.
"Think about it," she said. "You spend two to six weeks with someone every day. You are taking care of them. This is a living person. They care about them and love them. They have hobbies. They lived a life before coming to the ICU and are sick now It's very heavy.
People hear the numbers. But they are not numbers. They are people. The loss is too much. Those who survive will face permanent disabilities. For them, this will not end. "
More information
So far, Santa Clara County Hospital is the worst-hit hospital in the Bay Area, but all counties are facing a surge in intensive care unit (ICU) admissions. The figures below compare the average daily ICU enrollment in October and January.
Santa Clara County: October: 24th. January: 154, nearly seven times higher.
Alameda County: October: 19th; January: 113th, six times higher.
Consta Costa County: October: July. January: Sixty-six, ten times higher.
Napa County: October: January. January: 17th, 17 times higher.
Solano County: October: April. January: 38, 9 times higher.
Marin County: October: 1. January: 7, which is 7 times higher.
San Francisco County: October: October. January: 57, six times higher.
San Mateo County: October: June. January: 41, six times higher.
Sonoma County: October: 6th. January: 19th, three times higher.
Source: Chronicle analysis of California hospitalization data
Dr. Ahmed Kamal, director of COVID-19 health care preparedness in Santa Clara County, warned this week that despite the arrival of vaccines, the surge has not eased after the holidays.
"Nevertheless, the situation may get worse," he said. "There hasn't been a situation in the county where two people were breathing heavily and there was only one ventilator.
"But we can get there."
Nanette Asimov is a writer for the San Francisco Chronicle. Email: nasimov@sfchronicle.com Twitter: @NanetteAsimov