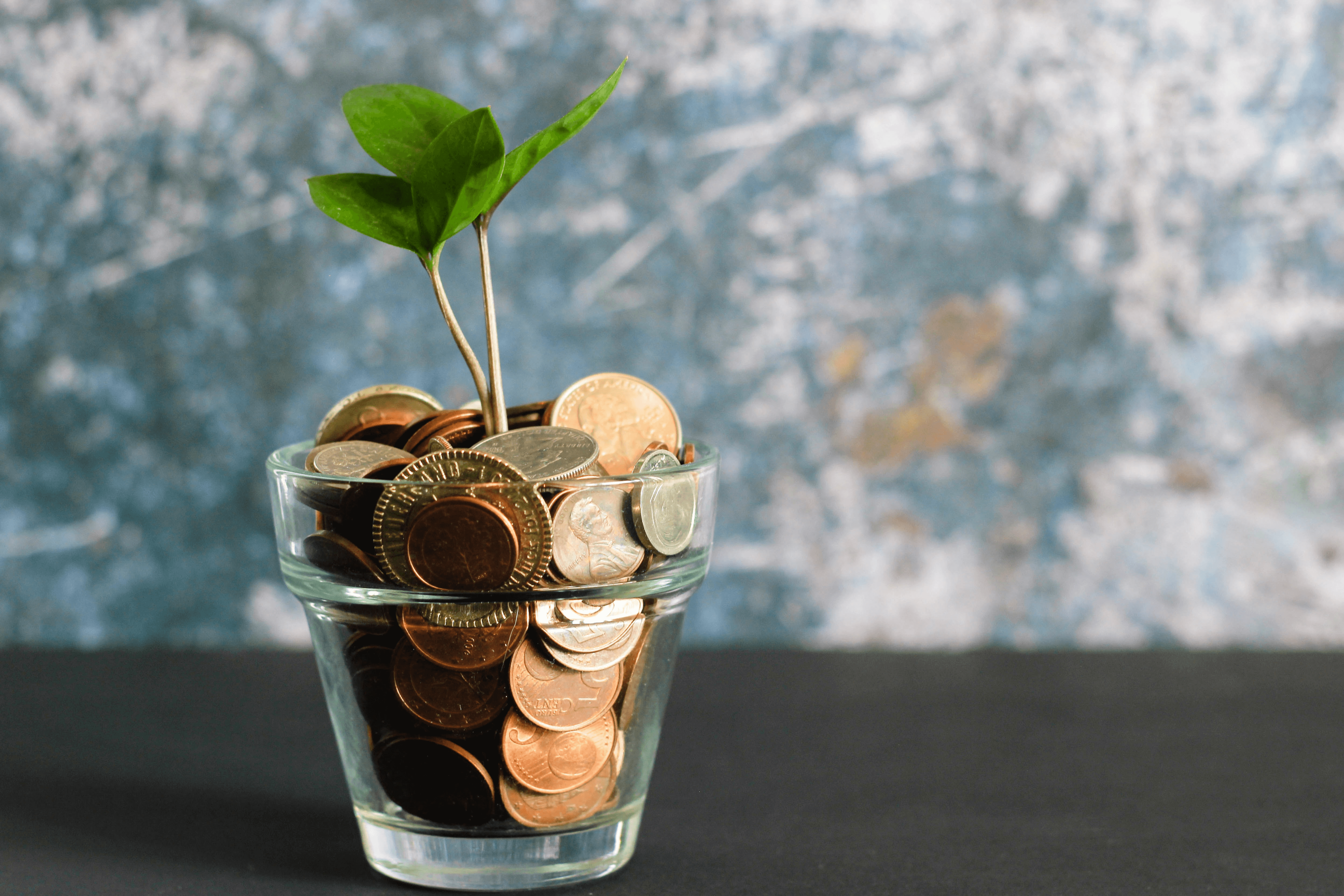 Introduction
The Vanguard Dividend Growth ETF (VIG) is a very popular dividend growth fund, and for good reason. The ETF's expense ratio is only 0.06%, which not only makes it one of the cheapest dividend ETFs, but also makes it one of the cheapest ETFs overall. Coupled with the fund's successful focus on dividend appreciation, it has become an attractive investment tool for many investors. The ETF holds a market-value-weighted portfolio of US companies whose dividends have increased for 10 years or more.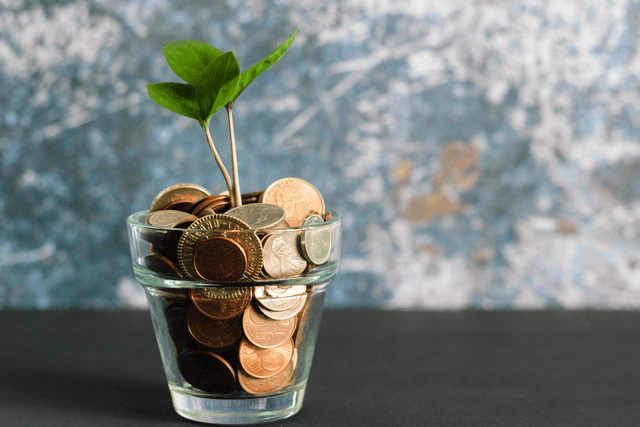 Outstanding performance
VIG tracks its index, the Nasdaq American Dividend Achievement Select Index, which is close to perfect according to the time frame and even exceeds the index performance. Even for the only passive ETF to track indexes, the consistency is excellent.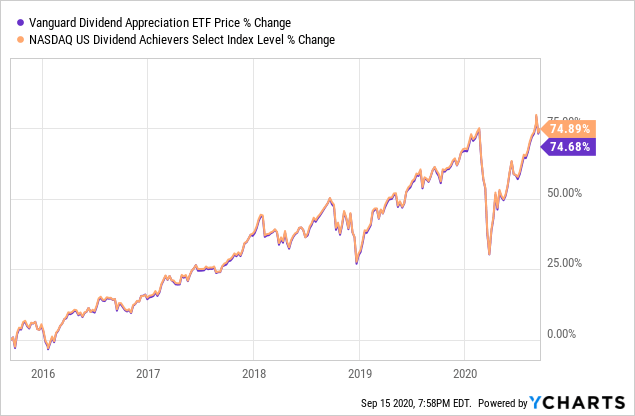 Using SPDR S&P 500 ETF (SPY), we can use Portfolio Visualizer to easily and quickly view the situation of the portfolio that only contains this ETF. The blue portfolio 1 below is SPY, and the red portfolio 2 is VIG. I went back to 2007 and first made a balance of $10,000 for each investment, and then reinvested all dividends. It can be seen that although the compound annual growth rate of SPY is 9.00% and the compound annual growth rate of VIG is 8.93%, its volatility is greater and it is poorer on the basis of risk adjustment. The worst year for VIG was -26.69%, while the worst year for SPY was -36.91%. Even more shocking is the biggest loss that occurred during the 2008/2009 financial crisis. VIG performed better, with a maximum drop of 41%, while SPY's drop was close to 51%.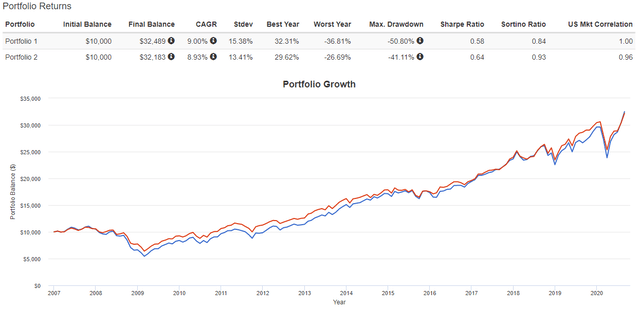 Source: Porfolio Visualizer
The Sharpe ratio of VIG is 0.64 and the Sortino ratio is 0.93, both exceeding SPY. Although these ratios are somewhat complicated, I will not explain them now, but you should know that they are trying to measure risk-adjusted returns, not absolute returns. The higher the number, the better. In this case, VIG beats SPY in both aspects.
Department and holding
In terms of departments, VIG maintains a considerable balance among its five main departments, and then has some names in other departments. Cyclical consumer goods are the largest sector of the fund, followed by technology. The industrial and healthcare industries rank in the top four, followed by non-cyclical consumer spending, ranking fifth. All these sectors account for more than 15% of the fund, but no more than 20%. Finally, finance, utilities, basic materials and telecommunications all account for a small portion of the fund.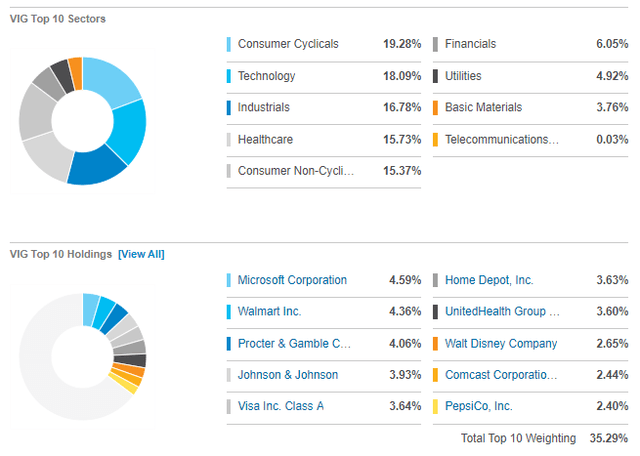 As for individual shareholding, Microsoft (MSFT) ranked first. Microsoft's current yield is close to 1%, which is certainly not a large number, but the company's payout ratio is only about 33%, so there is room for growth. In addition, since the appointment of CEO Satya Nadella (Satya Nadella) in 2014, Microsoft has been growing revenue steadily, and both myself and analysts foresee that Microsoft will continue to grow.
Currently, Wal-Mart (WMT), Procter & Gamble (PG) and Johnson & Johnson (JNJ) all rank close to 4%, while Visa (V) ranks fifth. The Home Depot (New York Stock Exchange: HD) And United Health Group (UNH) positions are 3.6%. Disney (DIS), Comcast (CMCSA) and Pepsi are in the top ten, all of which account for less than 3% of the total fund. The top ten positions account for about one-third of the entire fund. Considering that the fund has more than 200 holdings in total, this part is concentrated in the top ten.
in conclusion
The yield of the Vanguard Dividend Appreciation ETF is slightly less than 2%. Although this is not the highest rate of return, capital appreciation must also be considered. VIG has been paying dividends and continuously appreciated at the same time, bringing considerable risk-adjusted returns over the years, even better than S&P500. The fund should continue to perform well on the basis of future risk adjustments.
I will write more articles about (sometimes not so good) stocks and ETFs. If you like this article and want to receive updates from my latest research, please click "Follow" next to my name at the top of this article. Also, please consider looking for links to my social media pages on your "seeking Alpha" profile.
Disclosure: I/we did not mention any stock positions, nor do I plan to initiate any positions within the next 72 hours. I wrote this article myself and expressed my opinion. I have not received any compensation (except for seeking Alpha). I have no business relationship with any company whose stock is mentioned in this article.