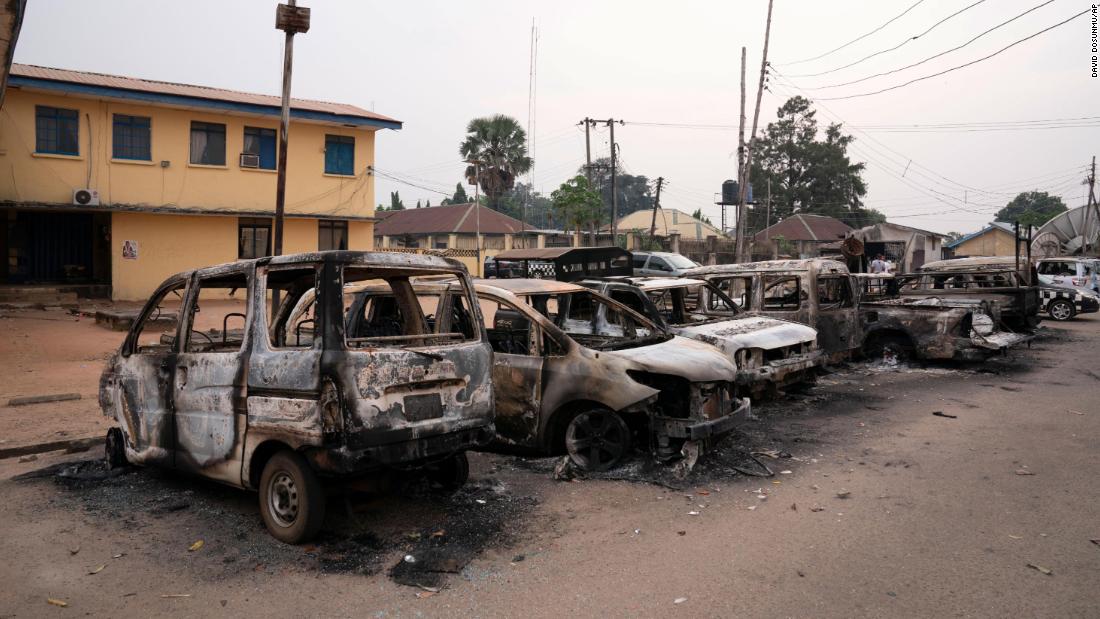 A spokesperson for the Nigeria Correctional Service said that six of the 1,844 prisoners who escaped from the Owerri detention center in Imo State returned voluntarily.
Authorities said 35 people chose not to abscond during the attack.
Francis Ennobore, spokesperson for the Nigeria Prison Service, said: "The attackers attacked the facility at approximately 0215 on Monday, April 5, 2021. They used explosives to blow up the administrative building and entered the courtyard."
The Nigerian police force accused the illegal separatist organization, the Orang Asli of Biafra (IPOB) and its paramilitary arm, the Eastern Safety Net (ESN) for the attack.
The police said that the gunmen also attacked the army headquarters in the state and were equipped with various advanced weapons and military equipment.
The Nigerian Police Force said in a statement on Monday: "The attackers' attempts to enter the headquarters' police armoury met with complete and appropriate resistance from the Nigerian Police Force."
President Muhammadu Buhari, who is currently on a medical visit to the UK, said in a statement issued by his spokesperson Garba Shehu that the simultaneous attack was an "act of terrorism. ".
The president said Buhari also instructed the country's law enforcement agencies to arrest fugitives and arrest the perpetrators "believed to be deadly criminals".
Nnamdi Kanu, the head of the IPOB separatist group, denied that the group was involved in the attack.
He told CNN: "We cannot grasp what happened in Owerri, Imo State. Nevertheless, we do acknowledge and acknowledge the anger, resentment and injustice that many people, especially young people, feel," he said.
"So what is happening now is that people are trying to avenge the relatives of the deceased in the hands of the Nigerian security services. I believe some people deceive themselves and say,'Enough is enough. Wherever the government allows injustice, they are just causing anarchy. Kanu added.
IPOB was banned and designated as a terrorist organization by the Nigerian government in 2017 after its continued demand for independence fueled regular conflicts with security forces-resulting in casualties.
The Buhari regime continues to suppress IPOB activities, worrying that the escalation of separatism-especially the organization's stronghold in eastern Nigeria, may trigger another Nigeria-Biafra civil war.
In a 2016 report, Amnesty International accused Nigerian security forces of planning to kill dozens of unarmed pro-Biafra protesters. At the time, the Nigerian army denied these demands.
In 1967, senior military officer Chukwuemeka Odumegwu Ojukwu led the seceded Biafra Republic (Biafra), a secessioned country split from the southeastern part of Nigeria.
From 1967 to 1970, this war led to a fierce civil war. After the war, more than 1 million people died of starvation.