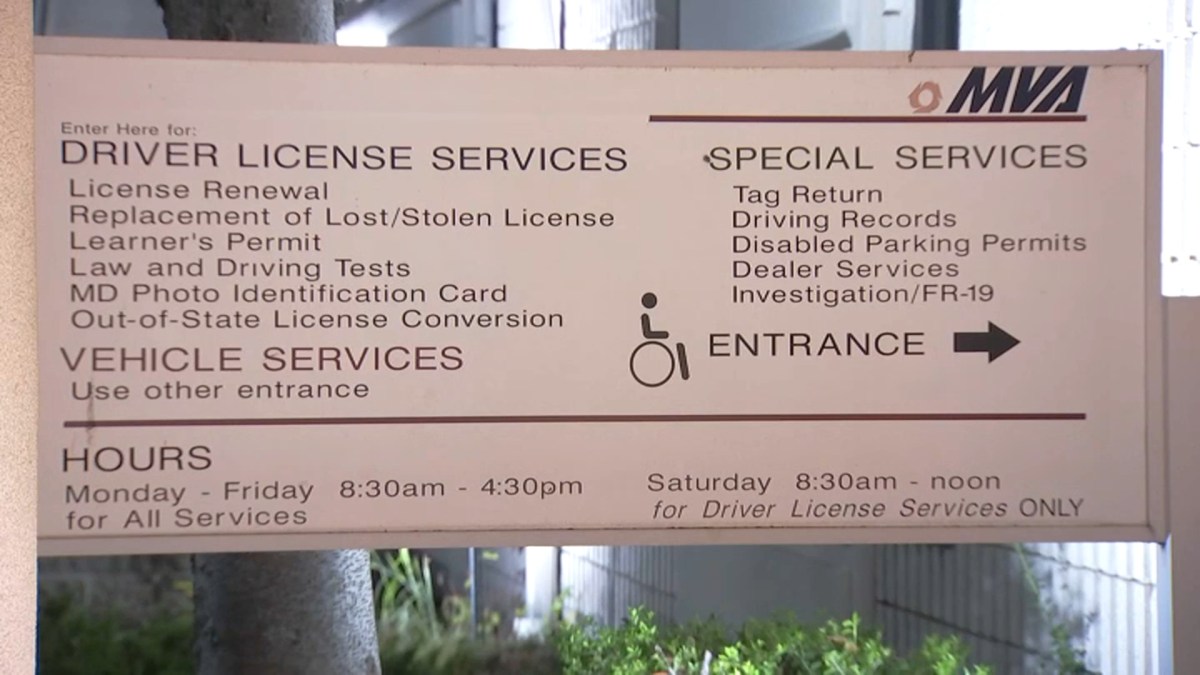 According to public records obtained by News4 I-Team, at least 93 local employees of the automotive management departments in Maryland, Virginia and Washington, DC have tested positive for COVID-19. Three of these cases were fatal.
A large number of cases occurred in the Glen Burnie office of MVA, at least 28 of them.
Download the free NBC Washington app for iOS or Android to get the latest local news and weather.
Representatives of the MVA employee union stated that these cases indicate that the health of workers and visitors of the branch was threatened. The branch was closed in March and reopened in most areas this summer in accordance with new safety regulations.
Although car dealers across the region track the number and location of positive COVID-1
9 tests among employees, Maryland and Virginia have not published or publicly reported incidents.
According to several employees who spoke with I-Team, colleagues and customers have no information about the case in the dark.
Stuart Katzenberg, the Maryland representative of the U.S. State, County, and City Employee Federation, said that the public interacted with the staff of the auto agency and entered the agency's branches.
Katzenberg said: "We arrange appointments for personnel, and go to the branch and headquarters to collect certificates every day and weekends for driving licenses and exams."
Renee Allen, an employee in the MVA Glen Burnie office in Maryland, said she tested positive for COVID-19 earlier this month. Allen said she suspected that her colleagues had contracted the virus a few weeks ago, but she said the agency did not disclose to MVA employees which cases or offices these employees worked in.
Allen said: "We have not been told anything. This is not transparent, but comprehensive."
Allen said her son, fiance and sister later also contracted COVID-19.
She said that she just left the house to go to work and had delivered food, which made her suspect that she had contracted the virus in the office.
Through a series of publicly recorded requests, I-Team found 37 COVID-19 cases among MVA employees in Maryland. At least 28 cases were conducted in Glen Burnie offices and branches.
Allen and her union representatives said that they did not know the case number until I-Team provided this information.
At least 6 cases have occurred in the MVA Largo branch, including one death. There are two other cases at the Gaithersburg MVA branch near the Metrogrovetan Grove MARC train station. The Frederick branch reported another case.
Some employees in the Largo MVA branch were afraid that five people would return to work after contracting the coronavirus and one of them would die. Shomari Stone of News4 has their story.
Maryand MVA administrator Christine Nizer said the agency changed its employee notification system on Monday. Nietze said the agency is now releasing information about positive cases of COVID-19 among workers in MVA offices, branch break rooms and public places.
Nietze said the agency also notified the state health department of all cases among all workers.
She said: "The health and safety of our employees is our top priority and to ensure that it is safe for customers who enter our factory."
Nietze said the agency has also adjusted its operations to better protect customers.
She said: "We will continue to evaluate our operations and make appropriate changes. We did not initially perform temperature screening. This is something we will add to the process later. We have found a way to perform vision screening. Without the customer's face in the machine. We have been paying attention to our operations and trying to find better ways to provide ways to do things for customers and employees."
I-Team has found at least 48 cases of COVID-19 among employees of the Virginia Department of Automotive. The agency did not provide a breakdown of the number of cases in each branch, but designated 11 positive COVID-19 positive tests to occur in DMV offices and branches in the northern part of the state (closest to Washington, DC). A spokeswoman said that the agency has 2,269 employees.
The District Health Department and the Mayor's Executive Office publicly released the number of positive COVID-19 tests among DC government employees (including DMV workers) on an online dashboard. It does not list specific DMV locations. The latest position shows that eight employees have contracted the coronavirus; two of them have died.