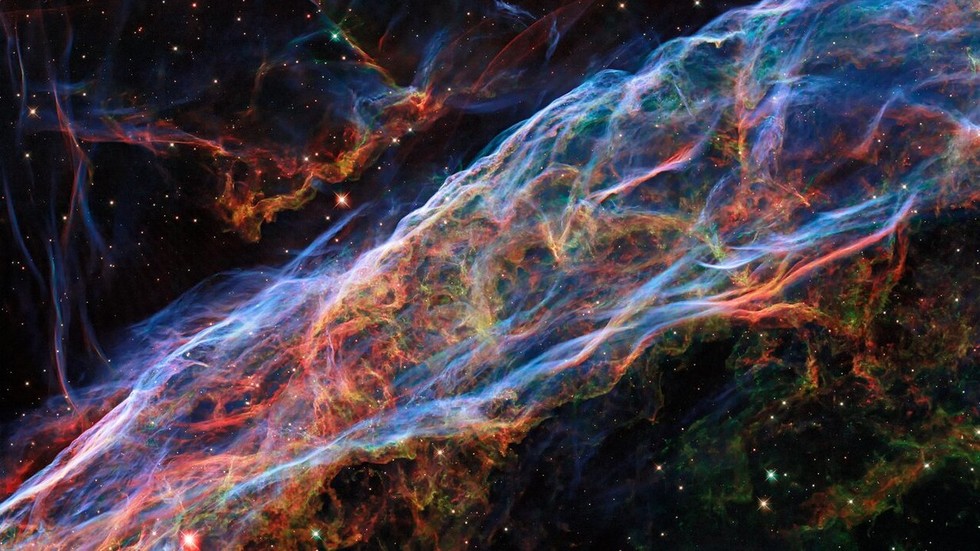 Scientists used new technology to release an amazing image of the Veil Nebula, a beautiful remnant of a supernova that occurred 10,000 years ago.
The supernova remnant is called the Cygnus ring, which is the result of the death of a star. The star is 20 times the mass of the sun, and its explosion distance is about 2,100 light years. The hollowed-out remains of the star are 110 light-years long and are formed by an unusually powerful stellar wind that blows before the star becomes a supernova.
The wind emits the initial gas scattered in the stars, and then the explosion causes them to spread out along the walls of the huge filaments of "stellar matter" like neon lights.
The operator of the Hubble Space Telescope released this spectacular image in 2015, which was taken with the Wide Field Camera 3 instrument.
Recently, researchers used new technology to reprocess the original data to produce a more spectacular image, showing the celestial interpretation of the phrase, "A loud noise."
Although the image is eye-catching, it shows how the sophisticated technical processing of human telemetry data has become, thereby providing new insights into the interstellar processes that form huge structures throughout the universe.
In the image, different gases are rendered in different tones: blue represents twice ionized oxygen, and red represents ionized hydrogen and nitrogen.
The green gas is not disturbed by supernova shock waves, so it appears more diffuse when allowed to settle.


Also on rt.com
A distant star has just exploded and turned into a new star, now it can be seen from the earth



By comparing Hubble's 2015 image with photos of the nebula before 1997, scientists determined that it is expanding at a rate of 1.5 million kilometers (932,000 miles) per hour, which is 117 times the diameter of the Earth.
Think your friends will be interested? Share this story!
Source link