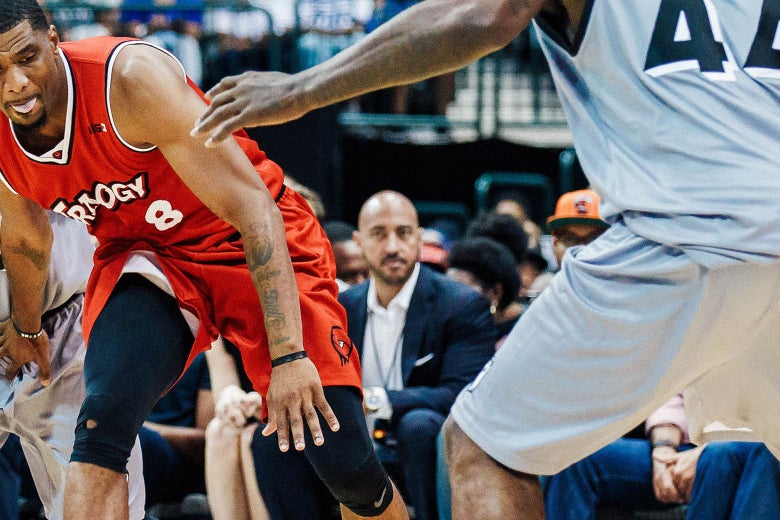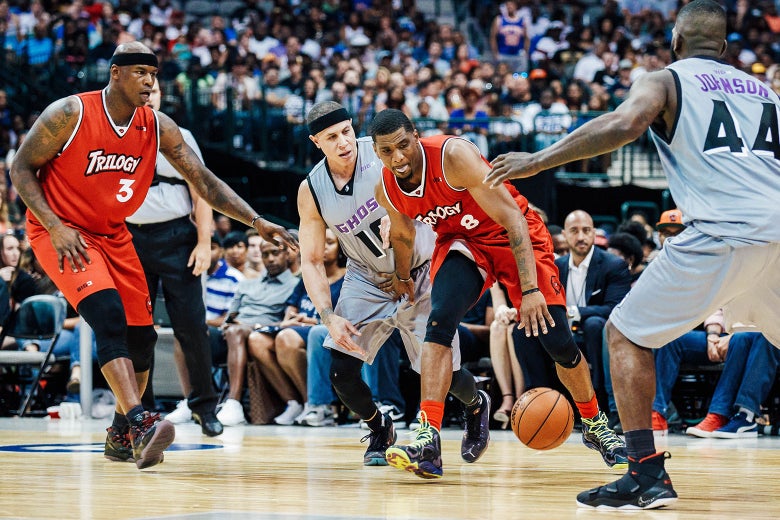 The founder of a three-on-three basketball league he claimed was offered bribes by a former Qatari diplomat to gain access to Steve Bannon said on Monday that the former diplomat is the same person who was photographed in December 2016 with Michael Cohen at Trump Tower.
BIG3 co-founder of the basketball league, Jeff Kwatinetz, told Slate that he recognized Ahmed Al-Rumaihi in photos with Cohen tweeted by lawyer Michael Avenatti on Sunday.
"Yes, 100 percent," Kwatinetz said when asked if he was watching the videos and photos of Ahmed Al-Rumaihi. Last week, Kwatinetz, the co-founder of BIG3 with Ice Cube, accused Al-Rumaihi of having filed a court order, attempting a bribe, and suggesting that Flynn did not "refuse our money".
Sports Trinity, the sports company of Al-Rumaihi, did not confirm or deny that Al-Rumaihi was at the meeting on December 12, 2016, which took place less than two hours before a public meeting between Cohen and the incoming national security consultant Michael Flynn. "We do not confirm and have no basis to confirm the video," said Sports Trinity in a statement by Robert Siegfried, vice chairman of Kekst and Co., a communications company, to Slate; Siegfried declined to answer questions about whether or not Al-Rumaihi remains in the country at this time. Al-Rumaihi's attorney, Brian D. Hershman of Jones Day, did not respond to several inquiries by email and telephone, whether the pictures were of Al-Rumaihi and his current whereabouts.
The photos were posted on Twitter on Sunday by Avenatti, who represents the adult movie actor Stormy Daniels in a lawsuit against Cohen who wants to repeal her secrecy agreement on an alleged fake affair with Donald Trump. Avenatti tweeted the images that shot Al-Rumaihi in a lift at Trump Tower on December 12, 2016, five days after news of the billion dollar sale of 19.5 percent of Russia's fossil fuel gas giant Rosneft to the Swiss trading company Glencore and the state Mutual Fund of Qatar. (Glencore and Qatar sold a large stake in Rosneft to China last year, but earlier this month Qatar bought back into the Russian company for a 19 percent share.)
The allegations in the Steele dossier point to a future counter-pro-quo deal between Russia and the Trump campaign.
The Rosneft Agreement is featured prominently in a case study by former British spy Christopher Steele. A key claim of the Steele dossier was that Trump's foreign policy adviser Carter Page promised at an alleged meeting with Rosneft representatives in the summer of 2016 that a Trump government would annul sanctions against Russia in return for brokering the Rosneft agreement. In May 2016, Al-Rumaihi reportedly took over the management of a large department of the wealth fund, which was ultimately involved in the Rosneft deal.
The allegations made in the Steele dossier in October 2016 point to a future counter-pro-quo deal between Russia and the Trump campaign. Despite the widespread support from Congress on the part of both parties, Trump was remarkably resistant to Russian sanctions. As Jed Shuggerman noted in Slate, during the trip to Russia in July 2016, the congressional side confirmed that Andrey Baranov, Head of Investor Relations at Rosneft, has briefly discussed "the sale of Rosneft" and "some" general reference Sanctions As reported by Natasha Bertrand of Business Insider, Page also confirmed the meeting with top Rosneft executives in Moscow on December 8, four days before the apparent Cohen Al Rumaihi meeting and one day after the completion of Rosneft's business.
Avenatti noted in his tweets over the weekend that Cohen met Flynn and Rick Perry within two hours of getting into the elevator with Al-Rumaihi.
Here is a brief overview of the image comparisons in question.
These are two photos of Al-Rumaihi who participated in BIG3 basketball games in July 2017: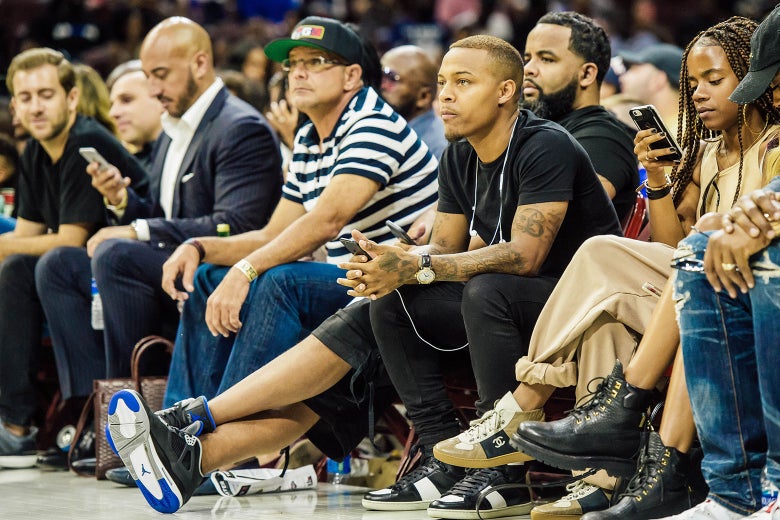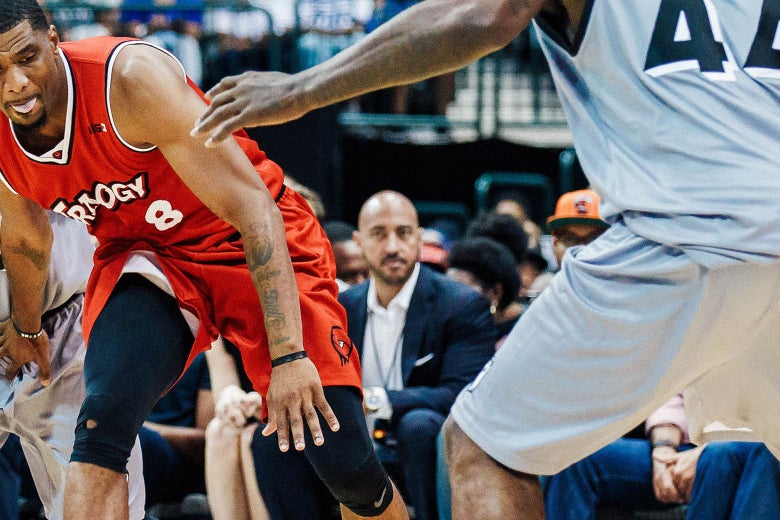 Here is a scene from the man, the Kwiatnet and Avenatti say Al-Rumaihi, in the elevator with Cohen on December 12, 2016: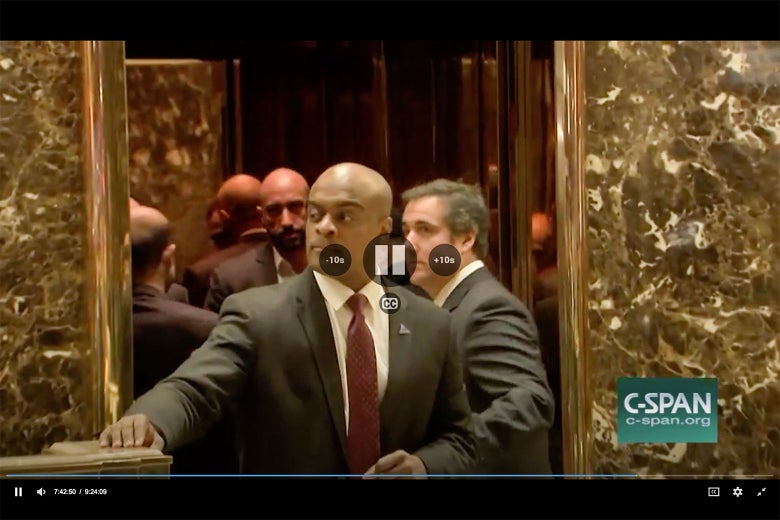 Here are shots from C-SPAN's Trump Tower Live Feed from Cohen the elevator with the figure that seems to be Al-Rumaihi:
Here are footage of the character who looks as if Al-Rumaihi would have left the Trump Tower less than 90 minutes after their arrival with Cohen.
Here are shots of several Flynn feeds coming down 12 minutes after Al-Rumaihis apparent exit, lingering a bit in the lobby, waiting to meet Cohen and Perry a few minutes later:
Last week, Kwatinetz said in a sworn statement filed in a pending lawsuit against Al-Rumaihi and a number of BIG3 investors, that the former Qatari diplomat bribed him during a private hike for an introduction to Kwiatnet "Friend Steve Bannon offered in January 2018. Kwatinetz claimed in the statement that he rejected the bribe and Al-Rumaihi said that Bannon would never accept one. At this point he said al-Rumaihi "laughed and then told me that I should not be naive that so many Washington politicians take our money and said," Do you think [Michael] Flynn has rejected our money? "
Al-Rumaihi's name was also added to a $ 90 million lobbying contract with Ashcroft in the summer of 2017, three weeks before he and his investment partners approached Kwiatnet and BIG3. A spokesman for Al-Rumaihi's sports group has called Kwiatinet's allegations "xenophobic" and "merciless."
Al-Rumaihi's photos at the Trump Tower hit the news last week, first uncovered by Avenatti and later confirmed by the New York Times and NBC News, that Cohen won one in the first months of the Trump presidency The contract was approved by $ 500,000 from a subsidiary of Viktor Vekselberg, a Russian oligarch and alleged Putin ally, who was later sanctioned. (The company, run by Vekselberg's cousin, denied Vekselberg's involvement in the payment.) This payment was made to the same Shell company founded by Cohen to pay Daniel's $ 130,000 in exchange for the Silence Agreement.
Recent revelations may raise more questions for Flynn, who pleaded guilty last year to lying to investigators and cooperates with the probe. It also opens the door to possibly confirm Flynn's meeting reports with other potential witnesses, Cohen, Perry, and possibly Ahmed Al-Rumaihi.
The Trump administration poses a unique threat to the rule of law. That's why Slate has increased our legal coverage – the Jeff Sessions Department of Justice, the Supreme Court, the suppression of electoral rights, and more.
Our work reaches more readers than ever before – but online advertising revenue is not enough to cover our costs, and we have no print subscribers to keep us afloat. So we need your help.
If you think that Slate's work is important, become a member of Slate Plus. You will receive exclusive member-only content and a number of great benefits – and you will help secure the future of Slate.
Join Slate Plus