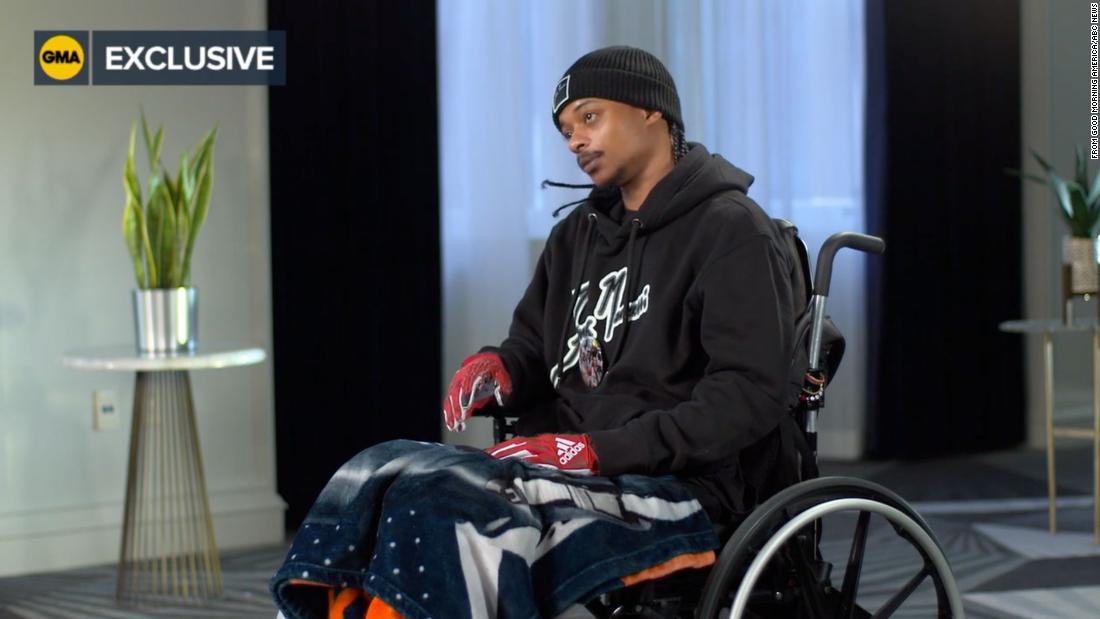 Black talked about the August 23 shooting that paralyzed his waist in part of the interview aired on "Good Morning America" ​​on Thursday.
"I thought,'He was shooting me,'" Black, a 29-year-old black man. "I couldn't believe it, so I kind of sat in the car… I raised my hand because I didn't want him to shoot me in the face. There was nothing on the head or head. He just kept shooting, keeping shooting.
He said, "My children, my children are here. So, after he stopped shooting me, I said,'Dad loves you, anyway.'" "I think it will be me to them The last sentence. Thank God, it is not."
;
The shooting on the videotape provoked protests last summer against racial injustice and the police brutality that was initially triggered by the death of George Floyd at the hands of the Minneapolis police.
Black told ABC's Michael Strahan: "I don't want to be the next George Floyd." "I don't want to die."
Kenosha County District Attorney Michael Graveley announced last week that Ruten Sheskey, the white officer who shot Blake, will not face criminal charges. Pointing at Blake to "actively resist" the arrest And his Own a knife when shooting.
Graveley wrote in the investigation report on the shooting that Siski and two other police officers were making domestic calls, which was "very important." Graveley said the police also issued an arrest warrant for Blake's arrest in a previous domestic incident.
Blake's lawyers believed that their client did not pose a threat to the police, so the decision not to prosecute the official has exacerbated the community's long-standing mistrust of the justice system.
The accident started with the police
Blake said he was trying to leave his son's birthday party with his son after a dispute with his neighbors, Laquesha Booker, the mother of his three children.
Black told the ABC: "I want to leave. My son is inside with tears in his eyes, and he said:'Dad, are you sure? This is my birthday.'" "I took them to the store again, Let them forget all this."
When Booker was ready to leave, Booker called the police and told the dispatcher that he had taken the key to the off-road vehicle she had rented, and she was worried that she would crash it.
According to the investigation report, Booker said Blake "should not be here", but she has allowed him to spend a few hours with his son on his birthday.
When the police arrived, Blake said they did not explain why they were there, nor did they say that they had an arrest warrant to arrest him-the police officer's statement to the investigator disagreed.
He said: "I was going out at the time." "I did nothing, so I don't think they are by my side."
Blake said he shouldn't pick up the knife
When Blake felt one of the police officers grab his arm, he had just put one of his sons in an off-road vehicle.
There was a physical dispute between Black and the officer, and they said they believed he was reaching for a weapon. Black told investigators that when Siski caught him for the first time, he dropped a knife on the ground, but denied that he would use it as a weapon against officers. Sheskey put down Taser, but Blake disconnected the wire with his hand.
Black He picked up the knife and started walking towards the SUV driver's door, away from the police officer.
He said: "I shouldn't have picked it up, but I didn't think clearly." Blake said that he planned to put the knife in the off-road vehicle and then lay on the ground to report to the police.
"If they kill me there, everyone will see it."
Black told ABC that he "cannot hear" officials telling him to stop. "All I hear is screaming, screaming. My ears are ringing, so it's all stuffy."
In the video taken from the apartment on the second floor across the road, Blake was seen walking in front of the SUV with a knife in his hand. The officer drew a gun and heard a male voice yelling: "Loss the knife!"
A moment later, when the police officer grabbed Blake's shirt, he heard seven gunshots. Blake has four entrance wounds on his back and three wounds on his left.
Kenosha Professional Police Association lawyer Brendan Matthews (Brendan Matthews) said in a statement last week: "Sergeant Seski is facing a difficult and dangerous situation. He took appropriate action and followed his training. get on."
"The video is still difficult to watch, but it doesn't change what actually happened. The opposite false and misleading narrative needs to stop. Kenosha can and will move forward from there. The process begins now."
Black's family lawyer expressed disappointment at the decision not to prosecute Sheskey in a statement last week, saying that the decision "not only failed Jacob and his family, but also the community that protested and demanded justice."
Lawyer Ben Crump said in an interview with Good Morning America that Blake's past actions did not defend the shooting.
He said: "If you are a black American and you are not perfect, then they will say,'Oh, this makes sense.' "It's like our children must be angels. "
According to the American Broadcasting Corporation (ABC), Blake undergoes physical rehabilitation four days a week and prepares for the 37th operation since the shooting.
As for the children who witnessed the shooting, Blake said his explanation was: "Dad can die, but for some reason, I didn't go that day."
CNN's Melissa Alonso and Ray Sanchez contributed to this report.