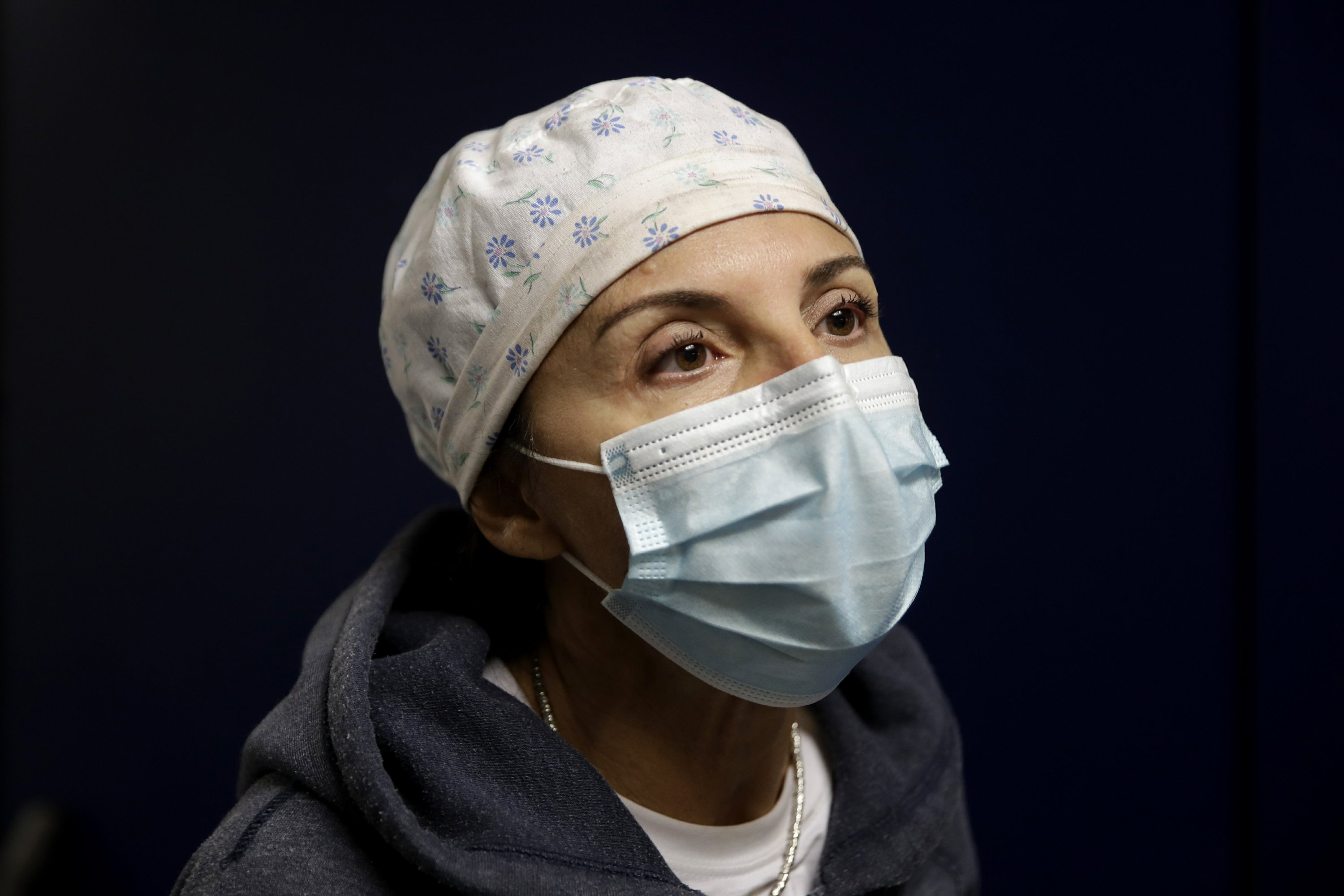 Milan (Associated Press)-A 54-year-old nurse convinced the coronavirus to "hate" her during the first seven months of the outbreak in Italy. These are the words of Cristina Settembrese.
Settembrese specializes in treating patients with infectious diseases, and she faces great risks during the long hours of close contact with sick and dying COVID-19 patients. She adjusted her preventive measures very carefully to adapt to the disease, and despite multiple exposures, she always tested negative.
The nurse's contact with the coronavirus began on February 21
, the same day the first domestic case in Italy was confirmed in the northern part of the country. The newly infected people included nurses and doctors, so Setem Bress immediately volunteered to take care of the patients in Codogno, the home of patient zero in Italy, only an hour's drive from her working place in Milan's San Paolo Hospital .
Soon, her hospital was besieged because the virus was spreading in Lombardy, which was the first stronghold outside of Asia. Settembrese is a single mother and immediately sent her 24-year-old daughter to live with her parents. The nurse slept on the sofa at home alone, partly to prepare in case she was called to work, and partly because of the reaction to the trauma that surprised her.
When the number of cases finally decreased and her hospital emptied COVID-19 patients, she found it difficult to share the relief she had seen with others who had not seen the trauma of her ward. During a short summer vacation, she saw the fall of the virus appearing again on the bare faces of other vacationers. Her worry intensified.
However, the recovery was even faster than the Settembres feared. In this week alone, the number of cases in her hospital increased by a third. It also appeared closer to home.
In her words, so far, this is her journey through the pandemic.
Italy's improvised virus shelter
"By August, we no longer have COVID admission. We have no cases for nearly a month. Starting in September, we began to have pneumonia again, and then some COVID patients appeared, but they were still not serious cases, so we closed Wards for meningitis, tuberculosis and general patients. The number of hospitalizations has increased and pneumonia has become more aggressive, forcing them to reopen the wards upstairs. The transformation has happened: the virulence is stronger, and we have seen it in the patients."
Waves in mid-October
"I can say that on the digital level, the numbers have skyrocketed… Nurses are being recalled from their beds when they returned to the ward. We are calling them back to help us because we cannot keep up with them. We only have a few people, We cannot keep up with people wearing helmets (to assist breathing)."
Nightmare return
"My experience is very bad. I didn't expect it to be like this. I cried a lot. Four months ago, I really cried a lot. I lost many young people, but they are still with me. I have not overcome these deaths. ….All of our nurses, we are suffering psychological damage. I am going through the second wave and I think we still get nothing.
"There was no terrible death this time. Now, with these therapies, you can avoid these intensive treatments. It can be said that we have found a pseudo-palliative treatment. We know how to handle cases better.
"But I experienced it internally exactly as before. For us, it was like a nightmare."
Looking back on the outstanding summer in Italy
"I have seven or eight days of vacation. I am in Rio de Janeiro (Adriatic Sea) with my mother. I am an alien. I see everyone wearing masks. People are everywhere on this beach. In the bar The crowd. The only person wearing a mask is a Lombard, no one else.
"I told them all. It seemed like I was crazy. I would say, "Separate and put on a mask. "I am very worried. I will observe and consider October, and then say to my mother and daughter: "With all freedom, we will face disaster. "Everyone told me that I was an alarmist, even a friend. I told them: "I am not an alarmist. I have been working in the infectious ward for 12 years and the virus will return. Because all viruses will return in October. Moreover, this will certainly not be lost. '"
The pandemic counterattack
"This young man still fascinates me deeply. This is a terrible story. He is a 42-year-old man. When he arrived, he was in very good condition, and then we had to intubate him with an anesthesiologist. I Holding his hand, he said, "Christina, swear to me that I will wake up because I have two children. "To help him fall asleep peacefully, I assured him. This is a promise I cannot keep because the patient died four or five days later. I am in a mess. I still carry this.
"Usually, when I walk into a room, I see people who were there before. All beds have faces. They have faces that I remember. Sometimes I have nightmares and I am not ashamed. My psychology Flashback is psychologically heavy… I still can't sleep in bed because I associate it with illness, which I have never felt since I worked as a nurse for 35 years. Slowly, I will overcome it. . But I have been sleeping on the sofa since March. I cannot go to bed."
Hit home
"One day, I was destroyed, as if I had been doing hard work in the fields all day. When I couldn't smell anything, I went for a test. Damn! I can say that I am positive, but I There are no major symptoms. I don't have a fever, I just have some cough and pain everywhere, such as the terrible flu.
In the end, the virus did not hate me. My defensive ability has declined. I work too much time, always wear a mask and keep a certain distance. I don't know where I got it from. Now, my daughter comes here twice to eat in shifts and has a fever and headache. She took the exam yesterday. I am very worried and feel very inside. "
Source link