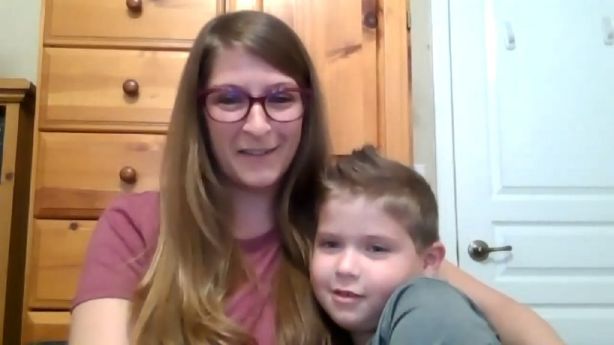 Grantsville – Megan McCormick said that one day her son was fine, and then the next day he developed a high fever, exhausted, and suffered from the syndrome caused by COVID-19-unless no one knew he was suffering There is a coronavirus.
Even for their pediatricians, this is a confusing time, and they don't even suspect that it is related to COVID-19.
Ask 7-year-old Easton McCormick about the situation. He won't say anything. "Poop," he shouted.
No, we are talking about children's multiple system inflammation syndrome, also known as MIS-C. This is a rare condition that may make children really sick after contracting COVID-19.
Meghan McCormick said: "He woke up with a fever of 1
04, which is too high."
They did not know that her son, or anyone else in the family, had COVID-19.
She said: "We didn't know that he even had COVID." "So, yes, he has no symptoms and no one else in the family… Either we have no symptoms, or none of us, and no one gets it."
Easton McCormick felt happy and healthy on March 5.
Meghan McCormick said: "And it's really fast." "It's completely different from where we were at the time,'Oh, yes, Easton feels bad for a few days. He seems to be genuine Leaving.' He is completely normal. We actually went to Disney on ice on Friday night and then came on Saturday."
McCormick said that just two days later, things changed.
She said: "His vital signs are terrible." "His oxygen is below 90. His heart rate is indeed high."
There are also skin rashes and red eyes.
MIS-C stimulates organs and body parts. It is still new and rare.
McCormick said: "His pediatrician just assumed he had walking pneumonia or asthma, so he gave us some medicine and we went home." "When we got home, he vomited violently. Came out."
---
The scary thing about MIS-C is that the kids will be fine, and then they will be fine.
-Meghan McCormick (Meghan McCormick)
---
Easton McCormick spent 7 days in the primary children's hospital, some of which was in the intensive care unit. His mother said that parents need to be aware of symptoms and they may have to ask about MIS-C specifically, especially if they know that their child has recently contracted COVID-19.
Meghan McCormick said: "The terrible thing about MIS-C is that the kids will be fine, and then they won't be fine." "And the difficulty is our medical professionals We don't know enough about this because it is related to COVID, and we only have COVID for one year."
Her son is getting better and better, but a month later he is still told to relax.
a It is not easy to live with a 7-year-old child. McCormick said: "Without physical exercise… without running, it is really difficult because he is such an active kid."
Easton McCormick is still a little swollen and his liver is moving faster. The doctor plans to perform another CT scan next week.
It's not over yet, but after the terrible experience of this family, the situation seems to be getting better.
×
photo
Related stories
More stories you might be interested in
Source link