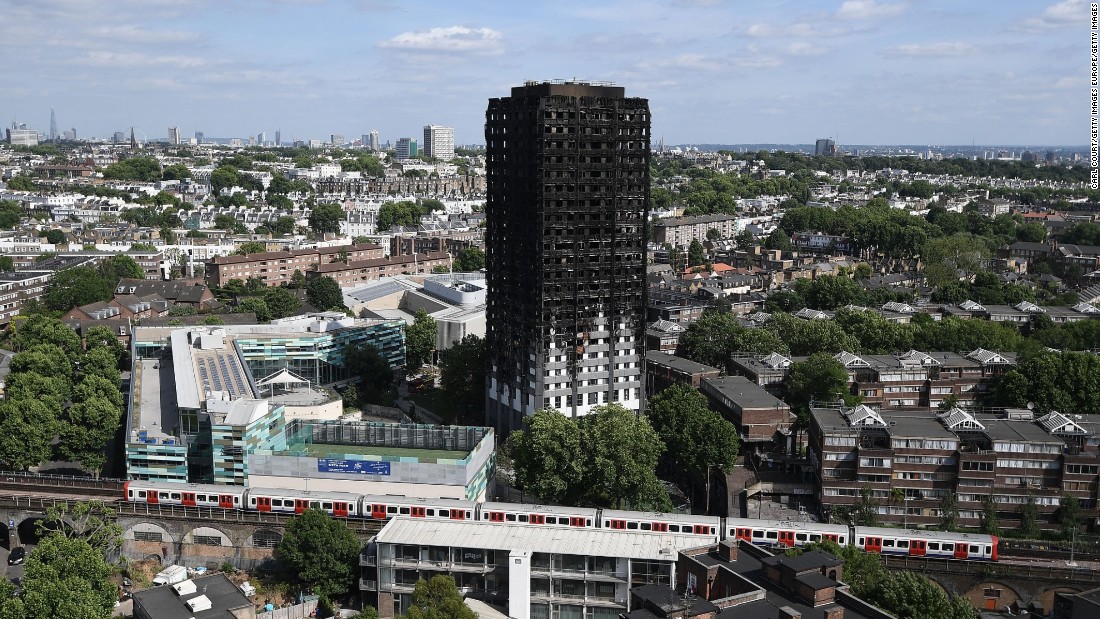 Residents and campaign groups called for a ban on the use of combustible building materials
The Grenfell Tower was clad in aluminum panels and a combustible plastic core. It was also supported by a synthetic insulation that was classified as flammable.
Dame Judith Hackitt, who led the investigation, said her review had uncovered a "race to the bottom" in building safety practice and discovered "ignorance" and "indifference"
But Hackitt stayed with BBC Radio Four on Thursday and insisted on their attitude, no open prohibition of all flammable materials in disguise, insisting that such a move would not solve the whole problem.
"The manual already says that you can only use materials with limited flammability or materials that have been fully tested," she said.
"It's clear that Grenfell and the other tests were done despite the current guidelines I say people would put up other materials, so I do not think a ban will work."
Activists, local residents and legislators voted for a total ban on facades and a review of building regulations.
RIBA, the Royal Institute of British Architects, has warned the government last month The review would not deliver the necessary changes, adding that they have a complete ban on the panels, a requirement for the installation of sprinklers and the addition of a second escape route for residential towers wanted
Disguise on hundreds of skyscrapers Everywhere in England, which was tested after the fire, failed safety tests.
The report comes a day after the British government announced it would spend 400 million pounds on the removal of dangerous facades of skyscrapers from town halls and housing associations across the country
Legislators: "A betrayal and a whitewash"
Labor MP David Lammy, whose friend Khadija Saye, a 24-year-old artist, in the Fire, labeled the review "a betrayal and a whitewash."
"I just do not see how suitable it is for flammable material in any high-rise building in this country, and I find it inscrutable that this review has not recommended a complete ban on the use of combustible material"
he said twitter.
Shahin Sadafi Chairman of the local election campaign group Grenfell United said the report "made the inhabitants disappointed and saddened."
"Concern that a fire like Grenfell could happen again keeps us awake at night," Sadafi told the BBC
"When we met Lady Judith Hackitt we asked her to ban flammable disguises saddened that she did not listen to us and did not listen to other experts, the Grenfell Towers disguise was considered to be limited flammable … it must be banned. "
In response to the criticism, Hackitt rejected allegations that a complete ban on disguise would solve all problems. [19659002] "If people feel that I have not gone far enough and this system needs to work in the future, then there must be more clarity or even the ban on some of the materials currently in use, I do not have a problem with it, "she said.
"I'll be disappointed if people think that the mere ban on disguising will solve this problem, it's a broken system, and disallowing disguise alone will not fix it."
The review follows one Judge-led investigation of the Grenfell fire starting on May 21st.