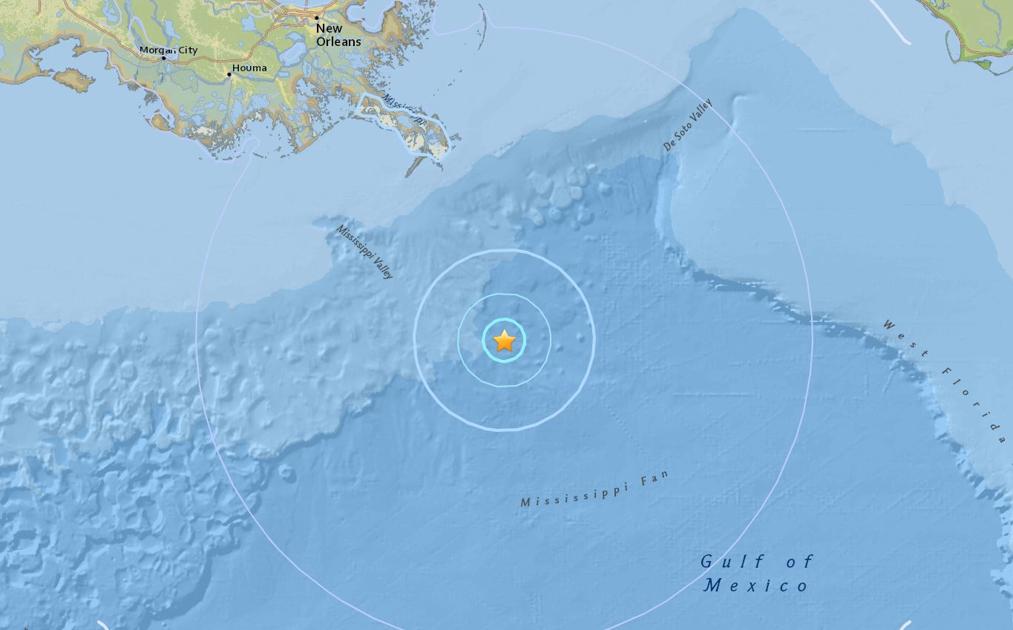 An unusual seismic event shook the Gulf of Mexico on Sunday morning when, according to the United States Geological Survey, an earthquake occurred about 120 miles southeast of Grand Isle.
Dozens of people had reported being shocked by the earthquake on Sunday night, their locations spanning southern Louisiana in Mississippi, Florida and Texas, according to USGS online data.
The earthquake received a preliminary magnitude of 4.6 at its epicenter with the highest levels of vibration reported in Slidell, Walker and Baker. But even in these areas, the impact was classified as easy on a USGS scale, classifying reports based on a series of questions from residents.
Paul Gecuso, a geophysicist at USGS, said the earthquake was large given its location, which does not normally see much seismic activity. But the effects were minor because they were in the ocean, reducing the risk of injury and damage to buildings.
According to Caruso, scientists do not expect significant damage unless an earthquake registers a magnitude of 5.5 or higher. The largest earthquake ever recorded was 9.5 magnitude and occurred in Chile in 1
960 according to USGS data.
Caruso also said that everything under a magnitude 7 typically does not produce a tsunami, which in this case does not pose a potential risk.
He said that all earthquakes are the result of errors in the Earth's crust, although the largest quakes usually occur at break lines when two plates rub against each other. The location of the seismic movement on Sunday morning in the Gulf – about 160 miles southeast of New Orleans – was not on or near a fault line.
Investigating the cause of the earthquake could be tricky, considering it was under the ocean, Caruso said. But scientists sometimes look at wave patterns to learn more about seismic underwater movement.
The last time an earthquake struck the upper Gulf on February 26, when a magnitude 4.3 occurred nearly 500 miles south of Baton Rouge, USGS data show. Others have seen this area in recent years with two of the largest – Magnitudes 5.3 and 5.9 – in 2006 and another in 1986, which took place almost in the same place as on Sunday.
Apparently, a few minutes ago, there was an earthquake about 120 miles southeast of Grand Isle or 160 miles southeast of New Orleans. There is NO Tsunami threat from this earthquake.

But we are curious … Did anyone feel it? #lawx #mswx https://t.co/hHg63A4jUm

– NWS New Orleans (@NWSNewOrleans) May 6, 2018