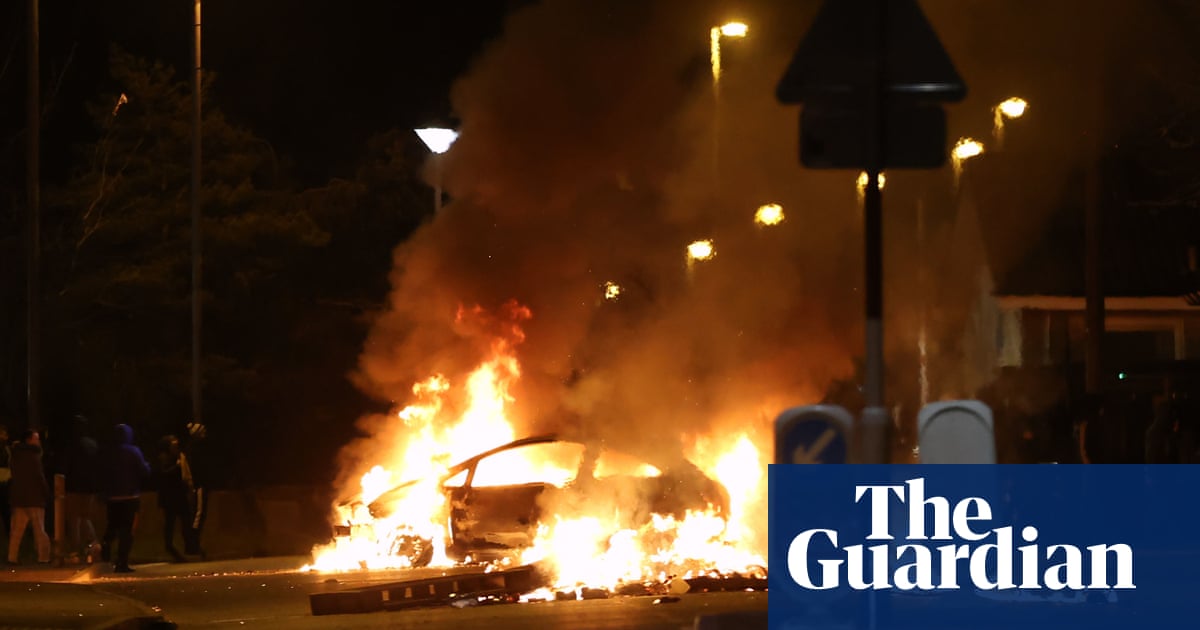 Despite calls for calmness, violence broke out again on the streets of Northern Ireland.
A car was set ablaze in Sperrin Park in the waterfront area of ​​Derry, and there were also reports of violence in Carrickfergus near Belfast. In recent days, these two places have been scenes of violence and unrest in loyalist communities.
Earlier, the Police Service of Northern Ireland (PSNI) called on community leaders to stop the riots that occurred during most of the week.
On Sunday night, five police officers were severely injured by petrol bombs and masonry in Belfast. The total number of police injured in the incidents in Delhi and Belfast over the Easter weekend reached 32.
Throughout the last week, tensions, mainly among unionists, spread to violence, throwing petrol bombs at PSNI officials and burning garbage bins and pallets.
PSNI Ch Supt Davy Beck said in a speech on Monday that the police are ready for another riot, but he urged community leaders to stop the situation.
He said: "At present, as we said, my police are in these areas and they are working hard to provide these police services. As far as crime is concerned, as far as road safety is concerned, as far as other concerns in the community are concerned.
"We are there, we are doing this. I will have more resources available, and we will respond to any situation that may arise.
"But there is a chance to stop this. In Cloughfern and Newtownabbey/Carrickfergus, this doesn't have to be a troublesome third night. I encourage people with influence in these communities to stop doing this."
Ch Supt Davy said the attack was "obviously well planned." He added: "I believe that a small group of dissatisfied criminals are clearly involved in influencing young people. I call on young people in those areas not to do this.
"I think it may not be a coincidence and it is fair. In some criminal groups, we have achieved success in this field. Therefore, I think this may be the reaction of some people involved in criminal activities."
When asked if he thought the South Antrim UDA was behind the attack, he replied: "As I said, I believe this is a dissatisfied criminal group. We will investigate this."
On Monday night, a masked faithful band paraded through the streets of Portadown, playing drums and flutes and waving flags. Sinn Fein (Sinn Féin) state legislator John O'Dowd condemned the march, saying that the march was designed to intimidate the local community.
On Monday, a similar parade was held in Markethill. It questioned whether the march committee was notified of these incidents as required by law.
The police said that in some incidents during the weekend, there were only 12-year-old children.
In recent months, post-Brexit trade arrangements have created a surge of tension in the loyalist community, which is said to have created a barrier between Northern Ireland and the rest of the UK.
The anger intensified after the controversial decision not to prosecute 24 Sinn Fein politicians for participating in a massive Republican funeral during the Covid-19 restrictions.
All major trade union parties demanded the resignation of PSNI Chief Constable Simon Byrne, claiming that he had lost the trust of the community.
At the same time, in County Antrim, the most recent anti-drug operation against the UDA (the main group's rebel faction) in South East Antrim made the police particularly uncomfortable. It is believed that this faction was behind the riots in Newtownabbey on Saturday and Saturday.
Source link