Updated at 11:45 am
COVID-19 continues the grim October climb in Minnesota. The Ministry of Health reported nearly 2,900 new cases on Thursday, a daily record of a pandemic, and another 32 deaths, close to record.
The latest figures are approaching a disturbing month. Hospitalization, the number of medical records and double-digit daily deaths have risen sharply, and it seems likely to continue until November.
State public health leaders should brief reporters at 2 pm
Now, for the first time in the state, there are more than 15,000 known active cases of COVID-19. In the past week, this number has increased dramatically.
According to reports, the death toll on Thursday raised the number of casualties in Minnesota to 2,419. About 70% of the dead have been living in long-term care or assisted living facilities. Most people have underlying health problems.
To date, about 87% of the 142,311 cases of disease confirmed in the pandemic have recovered to the point where separation is no longer necessary.
"Strengthening the storm"
State officials had predicted that gatherings in late summer and early fall would bring a large number of cases in October. They also predict that this wave will send more people to hospitals and cause more deaths.
That has passed.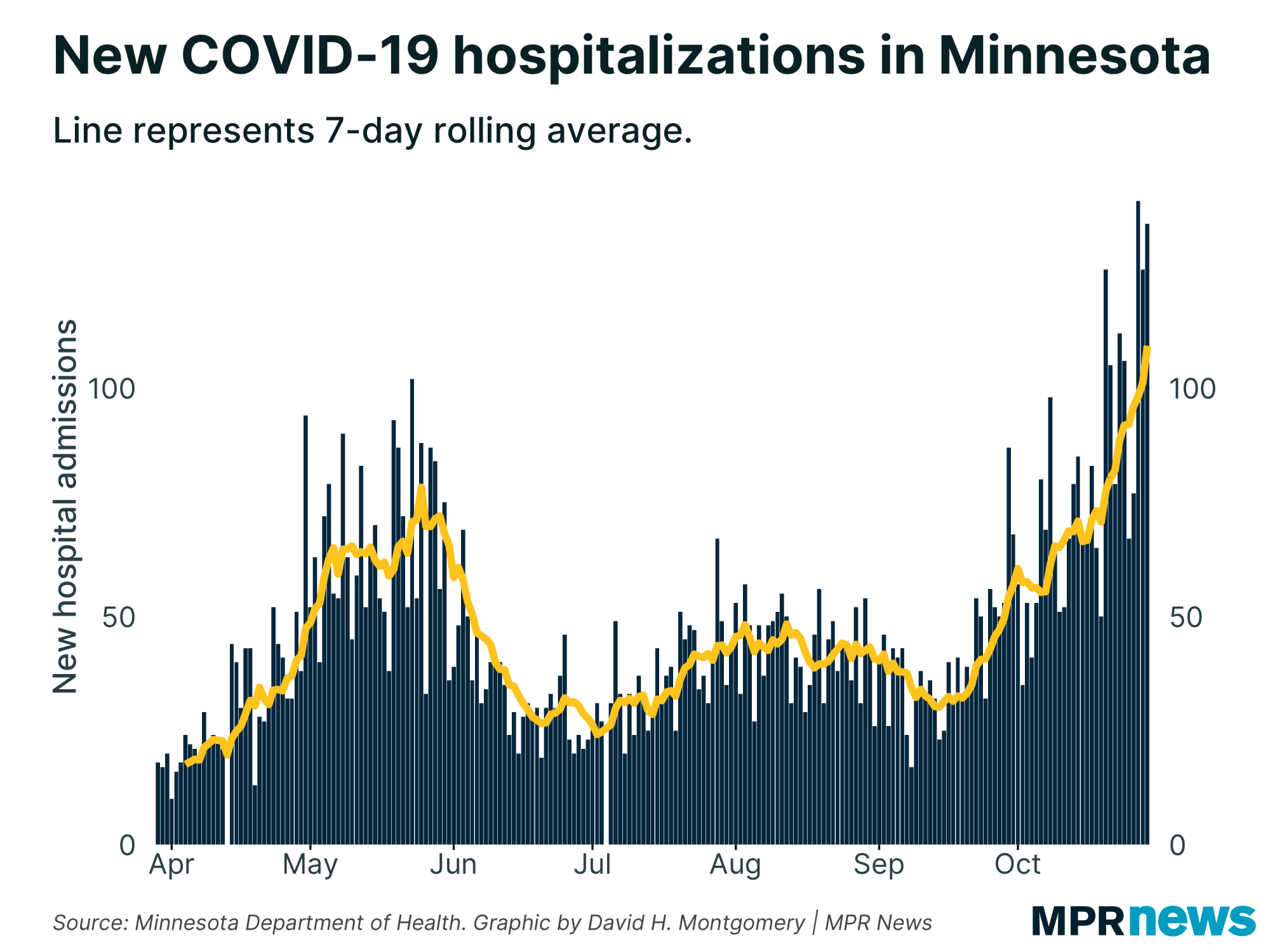 Health Commissioner Jan Malcolm told reporters on Wednesday: "We are in a winter storm." People compare the spread to a snowstorm, and people must work together to ensure the safety of everyone.
She urged Minnesota people to unite and pay attention to each other, as if they were in a snowstorm. As far as COVID-19 is concerned, this means that you should wear a mask in public gathering places, perform social evacuation and stay at home when you are sick.
Unlike the early days of the pandemic, health authorities believe that the current epidemic is more about people putting their guard down at family gatherings and celebrations, sporting events and informal gatherings, rather than relaxing in shops, restaurants and bars.
The number of cases across age groups is rising
In the past month, there has been a dramatic increase in new cases of all age groups.
The population under the age of 20 is still the age group with the most confirmed cases in the state-it has been close to 31,000 since the pandemic began, with more than 17,000 among those aged 20-24.
Since the beginning of the pandemic, the number of high school-age children who have been diagnosed with the disease has also increased, with more than 12,300 cases among children aged 15 to 19.
These numbers help explain why experts still pay special attention to teenagers and young people as spreaders of the virus.
Although it is unlikely to feel the most serious effects of the disease and eventually be admitted to the hospital, experts worry that young people and young people will spread it to grandparents and other vulnerable people. This is particularly worrying because people can contract the coronavirus and spread COVID-19 without symptoms.
This led Governor Tim Walz on Wednesday to urge testing of Minnesota people between the ages of 18 and 35. He said the team is promoting the spread of many asymptomatic viruses.
Assistant State Health Commissioner Dan Huff added: "We want them to be tested so that they can know if they are infected so that they can be isolated." This will help us in a certain area we just saw Stop this source of transmission. The disease spreads throughout the main reservoir of the state. "
Cases on the western border of Minnesota surge
Regionally, central, northern and southern Minnesota are the main drivers of the recent increase in new cases, while Hennepin and Ramsey Counties show some of the slowest increase in cases in the state.
The newly reported cases are highest in western Minnesota. The data cannot explain why. However, there is currently a surge in Dakota cases. North Dakota has the worst per capita transmission rate.
According to the COVID Tracking Project, in the past two weeks, North Dakota has more new cases per capita than any other state. South Dakota, which ranks second in new cases per capita, broke the hospitalization record for the third consecutive day on Tuesday.
Overall, rural areas in Minnesota continue to report the latest COVID-19 cases.
Northern Minnesota was once the least affected area of ​​the disease, and its number of cases has also increased sharply in recent weeks. Northwest Minnesota continues to see a rapid rise in cases relative to its population.
The state's director of infectious diseases, Kris Ehresmann, said last week: "We are seeing more deaths in Minnesota because we have seen more cases there." "Because of the large number of cases, we will Seeing more and more deaths in Minnesota."
Data on Wednesday also showed that the numbers near the Twin Cities are staggering: In the past week, there were 339 new cases in Wright County, a 14% increase in total.
Latin Americans, indigenous cases surge
In Minnesota and across the country, COVID-19 has hit the colorful communities particularly hard in terms of cases and death toll.
Hispanic Minnesotas tested positive for COVID-19, which is about five times faster than White Minnesota. They were also admitted to the hospital along with black Minnesota people and transferred to the intensive care unit at a higher rate than the general population.
Aboriginal people in Minnesota have a similar trend. Relative to population, the number of indigenous peoples increased in October. In recent weeks, the number of new COVID-19 cases among Native Americans has increased by approximately 75%.
The October data also showed that newly confirmed cases are on the rise among Latin Americans in Minnesota.
Mistrust of the government, coupled with deep-rooted health and economic disparity, hinders efforts to test people of color, especially for undocumented immigrants who fear that their personal information may be deported.
Some incidents are "no longer safe"
The latest figures appeared two days ago. Waltz and public health experts painted a picture of an increasingly worrying COVID-19 epidemic. Now it is more people at family gatherings and celebrations, sporting events and informal gatherings. Put down your vigilance, not in shops, restaurants and restaurants, bars.
The governor's senior health officials once again urged Minnesota people to reconsider their plans to hold large family gatherings on Thanksgiving and other upcoming holidays, warning them of increasing risks.
Given the current large number of dispersal in upper communities in Minnesota and the Midwest, "large families, gatherings of multiple families across the region" is definitely a very, very bad idea this year," Erisman said on Monday.
Malcolm said on Wednesday that there have been more than 70 wedding-related outbreaks since June, which resulted in more than 674 direct cases and one death.
Erisman said that "the vast majority" of the spread of COVID-19 came from these events. "Things that were relatively safe a month or two ago are no longer safe."
Ehresmann reiterated this on Wednesday, when she warned Minnesota people not to attend large Halloween parties and other events outside of their immediate families. She said that this kind of fun is "more risky now than it was a month ago."
---
Developments around the country
The Anoka-Hennepin board voted against continuing to guide the movement
The Anoka-Hennepin school voted on Monday to keep high school sports and other activities going, even if they closed the school for face-to-face learning.
The region decided last week to turn to distance learning for middle and high school students in response to the increase in COVID-19 cases. State guidelines say that schools must at least meet the guidelines for personal instruction to provide sports and other extracurricular activities.
However, because athletes believe that COVID-19 can be managed in high school teams, and there are signs that non-school teams can still participate in the game, the school board members voted to veto the state guidelines.
Board member Jeff Simon said that he believes that children will still participate in the competition and school is the best place to go.
"They are involved in and responsible for and care about personal health and have curbed the spread of COVID-19. Therefore, in accordance with the Minnesota High School League recommendations on safe participation, continuing activities under the current structure does enable the state to continue to express opinions and manage activities. The process will continue."
Regional director David Law also told board members that there may be other regions that violated the guidelines.
When asked about the actions of the school board on Tuesday morning, Governor Tim Walz said that he would deal with this issue, adding that he would prioritize public health.
"I understand the desire to ensure that children can continue to perform these activities. I have an eighth grader and I want to watch these things. But we must also manage it through public health," he said.
Walz said the state health and education departments will communicate with the Anoka-Hennepin school, but did not specify that these departments will tell the state's largest area.
"But I do need to emphasize that the health and safety of students, those educators and the community is always a priority," Walz said.
—Tim Nelson | MPR News
---
headline News
The state plans to conduct COVID-19 testing among young people: People between the ages of 18 and 35 represent the current largest number of new cases in Minnesota-Governor Tim Walz said that people in this age group are infected with COVID-19 but have no symptoms, which largely drives the virus in the state. State spread.
The pandemic may exacerbate the pain of seasonal affective disorder, but strategies can help: Those who have struggled with seasonal depression plan how to feel better during the winter pandemic.
A school board decided what "let them play" means for Minnesota: Anoka-Hennepin officials learned that the community's uproar over the cancellation of the movement is much more intense than the worry about canceling in-person classes.
5 tips and some ideas to help you celebrate Halloween safely this year: Many traditional Halloween techniques, such as trick-or-treating techniques, involve face-to-face interaction with many different people. But this year, in order to prevent the spread and protect each other from COVID-19, some parts of Halloween may need to be updated slightly.
---
COVID-19 in Minnesota
The data in these graphs are based on cumulative totals released by the Minnesota Department of Health at 11 am each day. You can find more detailed statistics about COVID-19 in the following locations: Department of Health website.
You make MPR news possible. In our reporters across the state, reporting on the connection with us and providing opinions in the dialogue, behind the personal donations is clear. Help ensure that MPR remains the resource that brings Minnesota people together.
Donate today. The gift of $17 will make a difference.