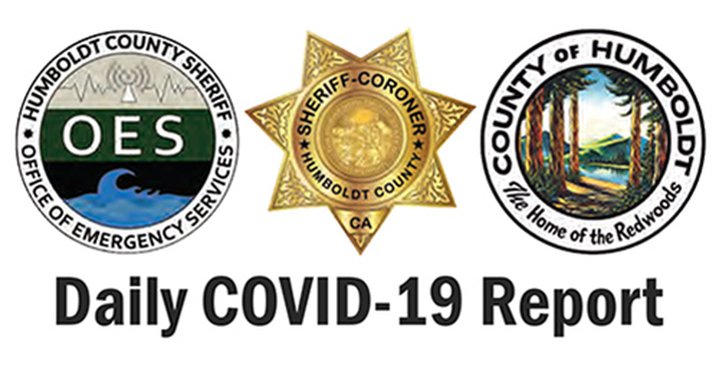 Press release from Humboldt County Joint Press Center:
After testing positive for COVID-19, residents of two counties died, and 53 new cases were reported today. The total number of county residents who have tested positive for the virus is currently 1,731.

The deceased were all in their 80s and were residents of the Granada Rehabilitation and Health Center. Humboldt County Health Officer Dr. Ian Hoffman sympathizes with those who have lost loved ones due to COVID-19 and encourages everyone in the community to do their part to stop the spread, especially as the New Year holidays approach.

Dr. Hoffman said: "After Thanksgiving, there was a significant increase in local cases. This is mainly due to travel, and we have not yet seen the full impact of holiday travel during Christmas."

; He added that personal choice has an impact on limiting the virus. Vital. "Please choose to stay at home on New Year's Eve, especially when you are sick. Find ways to celebrate to avoid crowds and parties, and follow all safety measures, including wearing a mask, washing your hands and keeping your distance from people who cannot stay.

For more information on COVID-19 holiday safety tips, please visit https://covid19.ca.gov/holidays/.

For the latest COVID-19 information, please visit cdc.gov or cdph.ca.gov. You can get local information through humboldtgov.org or contact covidinfo@co.humboldt.ca.us during working hours or call 707-441-5000.

Local COVID-19 vaccine information: humboldtgov.org/vaccineinfo,
Humboldt County COVID-19 Data Dashboard: humboldtgov.org/dashboard,
Follow us on Facebook: @HumCoCOVID19,
Instagram: @HumCoCOVID19,
Twitter: @HumCoCOVID19, and
Humboldt Health Alert: humboldtgov.org/HumboldtHealthAlert

###
= Historical data. All data comes from the Humboldt County Joint Information Center.
Data from CalREDIE. Postal codes that are not listed have experienced five or fewer cases. Zip code population in the 2018 American Community Survey.