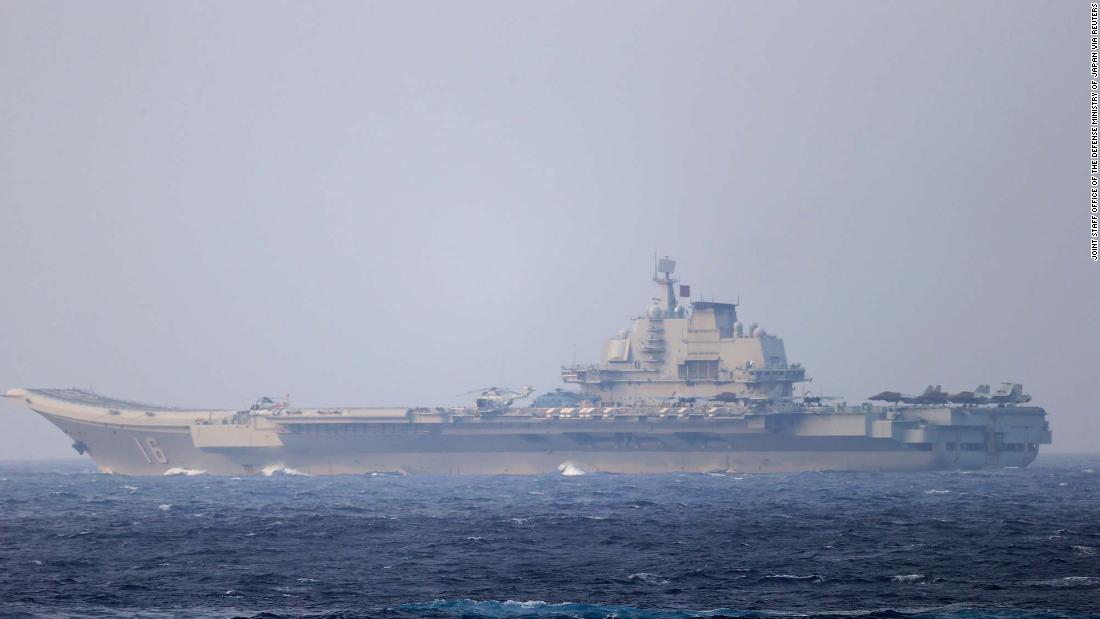 The Chinese military said in a statement on Monday that the Chinese aircraft carrier Liaoning and its frigate are conducting exercises near Taiwan.
The statement said: "This is a routine training exercise organized in accordance with the annual work plan. The purpose is to test the effectiveness of the military's training and enhance its ability to safeguard national sovereignty, security and development interests."
At the same time, at least 10 PLA ​​fighters, including 4 J-16 and 4 J-10 fighters, a Y-8 anti-submarine fighter and a KJ-500 early warning aircraft, have entered Taiwan's Customized Air Defense Identification Zone (ADIZ). According to Taiwan's Ministry of National Defense.
The Federal Aviation Administration of the United States defines ADIZ as "a designated area in the airspace on land or water. For the national security of the country, a country needs to carry out immediate and active identification, positioning and air traffic control of aircraft.
According to Reuters, Taiwan's Ministry of National Defense stated that it has fully grasped the situation and is "appropriately handling" the matter.
Beijing claims complete sovereignty over Taiwan, which is a democratic country with nearly 24 million people on the southeast coast of mainland China, even though the two sides have been in power for more than 70 years.
Chinese President Xi Jinping has vowed that Beijing will never allow the island to formally become independent and refuses to rule out the possibility of using force to retake the island if necessary.
Since Taipei has gained support from the United States in the form of new military equipment, the agreement between the United States and the Taiwan Coast Guard, and the strong support of the US President Joe Biden's government, the tensions in Taiwan have been Is heating up.
US State Department spokesperson Ned Price said last week: "We are committed to deepening relations with Taiwan."
Last month, following talks with Japanese leaders and diplomats, U.S. Secretary of State Anthony Brinken warned that Washington and Tokyo were prepared to counter China's threat to stability and order in Asia.
Brinken said: "China has used coercion and aggression to methodically erode Hong Kong's autonomy, weaken Taiwan's democracy, abuse human rights in Xinjiang and Tibet, and assert maritime claims that violate international law in the South China Sea."
"When China uses coercion or aggression, we will fight back when necessary."
"Warning" from Beijing
Shi Hong, the executive editor of China's "Shipborne Weapons", said in a report in the "Global Times" that Monday's Chinese exercise proved its military superiority over Taiwan.
He said: "The exercise shows that the People's Liberation Army has the ability to encircle Taiwan Island and isolate its troops, leaving them nowhere to escape, and there is no chance of winning if something happens."
He added that the exercise also conveyed a message to the United States and Japan. Shi Zhi said that since any military intervention by the United States and Japan may come from the East, China has proved that it can cut off such assistance by exercising its carrier formation in the country.
Western analysts say that China did not show any new capabilities during Monday's exercise.
Thomas Shugart, a senior researcher at the Center for New American Security, said that in fact, the Chinese aircraft carrier in the open Pacific can play one of the advantages of the US Navy-its nuclear-powered attack submarine (SSN). Captain of the United States Navy.
Shugart said: "The Chinese aircraft carrier operating in eastern Taiwan is not that valuable because it can be very fragile in such a remote area-in the deep water area affected by SSN and China's integrated air defense/SAM umbrella."
Analysts said, but the Chinese military did issue a political statement.
Colin Ke, a researcher at the International College of Rajaratnam International College in Singapore, said: "This is a warning to Taiwanese and other people in Beijing who believe that they are harming their interests, especially Americans."
Koh pointed out that the Chinese People's Liberation Army Naval Aircraft Carrier Group had at least two operations in eastern Taiwan.
The emergence of a large number of PLA aircraft in Taiwan's ADIZ has become more and more common.
According to Taiwan's Ministry of National Defense, in late March, 20 PLA ​​fighters entered Taiwan's ADIZ within a day. This is the highest number since Taiwan began disclosing that Chinese aircraft entered its airspace almost every day last year.
It is expected that such activities in China will continue. The People's Liberation Army of China said in a statement that aircraft carrier operations such as those carried out on Monday will be carried out on a regular basis.
U.S. aircraft carriers operate in the South China Sea
While the Chinese aircraft carrier was conducting exercises in Taiwan, a US Navy aircraft carrier strike organization was carrying out its own operations In the South China Sea.
The US Seventh Fleet said that the USS Theodore Roosevelt and its frigate entered the South China Sea on Sunday for routine operations. This was Roosevelt's second such visit this year.
General Dug Verisimo, commander of the Ninth Aircraft Carrier Strike Team, said in a statement: "It is a pleasure to return to the South China Sea and assure our allies and partners that we will continue to work for the freedom of the sea."
The Seventh Fleet's statement said: "In the South China Sea, the strike team will conduct fixed-wing and rotary-wing flight operations, maritime strike exercises, anti-submarine operations, coordinated tactical training, and so on."
Beijing claims that almost all 1.3 million square miles of the South China Sea is its sovereign territory. In recent years, it has established military fortifications on several islands.
It said the presence of foreign troops like the US Aircraft Carrier Strike Group has increased tensions in the region.
Source link