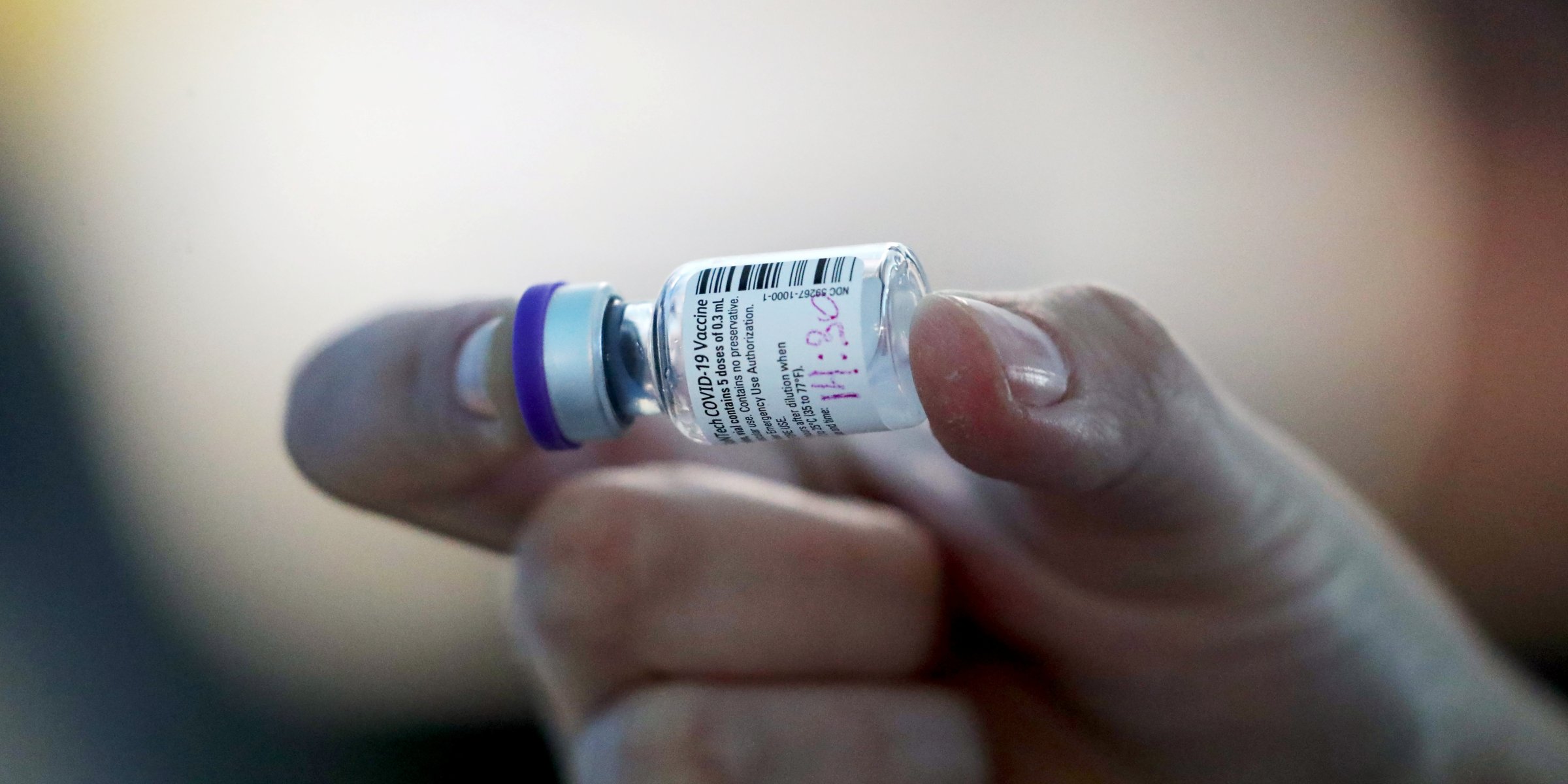 UğurŞahin, BioNTech's co-founder and CEO, said on Saturday that by late March, Turkey may receive up to 4.5 million doses of the coronavirus vaccine developed by BioNTech and Pfizer, and that number may reach 30 million by the end of 2021.
The day before Shahin's remarks, Minister of Health Fahrettin Koca announced on Friday evening that Turkey has reached an agreement with BioNTech to purchase the first batch of 550,000 doses, with the option to purchase up to 3,000. Ten thousand doses.
Koca announced the agreement on Twitter, and he said that the reason for the delay in the transaction was due to liability issues.
He said: "The reason for the delay is that the producer is not responsible for the potential problems that may be caused by the production." He added that the differences were later resolved.
Koca said: "Citizens who want to take the medicine will get informed consent."
;
In his address to the Anadolu Agency (AA), Shahin said that he is happy to sign an agreement that allows him to help his country. Şahin was born in Iskenderun in southeastern Turkey in 1965 and moved to Germany at the age of four.
In explaining the details of the agreement, Sahin said that the logistics of the transaction and the training of health workers who will be vaccinated are priority tasks for the first batch of vaccines (550,000 doses).
BioNTech/Pfizer's vaccine must be transported and stored at temperatures below 70 degrees Celsius, which is the typical temperature in Antarctic winter. Coupled with orders reaching millions of doses, the vaccine poses unprecedented logistical problems for many countries.
"The money will arrive in Turkey within a year. First, we need to prepare for logistics. What are the potential side effects of the vaccine, such as allergic reactions, what needs to be done when this happens, all this information needs to be shared correctly. We need to Health workers are ready, and we hope to vaccinate safely." He said.
"We hope to send 30 million doses of vaccine by the end of 2021. We plan to send 4.5 million doses of vaccine by the end of March because the world needs these vaccines. We hope to provide these doses fairly. Hopefully, by the end of next year, we can provide us 30 million doses agreed." Şahin told AA reporters.
Shaheen said that with regard to any potential further transactions, the agreement for more than 30 million doses will depend on supply.
"We hope to cooperate with Pfizer to produce about 1 billion doses next year. We need to ship these vaccines to 80 countries. As long as there are doses, we will be more willing to provide more to Turkey." He said.
But he warned that the production of vaccines is a complicated process, and reaching the actual target of 1.3 billion doses may require cooperation with other companies.
"We will work with other companies again. If we can execute the plan to increase the capacity, we can disclose it in January or February. I believe we can increase it. We do not yet have a guaranteed plan."
Liability and side effects
Regarding the issue of the responsibility for delaying the transaction, Mr. Shaheen thanked Minister Koka for his assistance in the negotiations. He explained that the difference lies in the company's desire to limit the liability for litigation due to side effects.
"We provide transactions with the same terms for all countries/regions. Europe, the United States, and Japan all have the same standards. He said that limited liability is to determine the responsibility of our company.
"When you do something, people can file a lawsuit for you. You also know this, and they can claim "this or that." If this happens, we will be helpless because there may be litigation requirements. Billions of dollars. This makes our lives more difficult. We make safe vaccines for people. But this does not mean that we are immune from litigation. This is why we need certain restrictions to protect the company."" ahin explain.
Şahin said his company has found that about 1.5 million people have been vaccinated with the mRNA-based coronavirus vaccine, but no serious side effects have been seen.
The most common side effects of the vaccine are headache, fatigue, pain in the vaccinated arm and, in rare cases, fever. Shaheen said that all side effects usually disappear within two days.
However, the most serious side effect is allergy, which occurs within 30 minutes after vaccination, with an incidence of 1 in 50,000 people.
Allergic reactions may occur within the first 30 minutes after receiving the injection. This is why medical staff need to stay nearby for 30 minutes. Couldahin said.
Still need to be cautious
As countries around the world prepare for the arduous task of vaccination, and some countries have begun to vaccinate, people hope that after a long year in the shadow of the coronavirus pandemic, life will soon return to normal.
But Shaheen warned that preventive measures must be kept longer-at least 70% of the population must be vaccinated.
"Our vaccine cannot contain infection in the winter. People need to observe discipline and continue to protect themselves and others. The vaccine will first be given to the elderly and health workers. We can protect them," he said.
Şahin reminded Turkey that it has also signed a 50 million dose agreement with Chinese biopharmaceutical company Sinovac. He said that reaching the threshold for the number of vaccinations is the key to returning to normal.
"We need to vaccinate 70% of people. If it succeeds before next winter, then we can return to normal life. It is vital to maintain discipline," he said.
Turkeyahin said that regarding Turkey's deal with Sinovac, this is a good move by Turkey to ensure that it receives a sufficient dose to reach the 70% threshold.
"The vaccine from China has also shown effectiveness. I think its effective rate is about 85% or 86%. That can be considered an effective and good vaccine. Don't worry about whether the vaccine is from BioNTech, China or any other government vaccine. After a long process of experiments and clinical trials, Chinese scientists developed this vaccine. Sahin said: "It is important that Turkey produces the necessary amount of dose. "
Şahin said the Sinovac vaccine is 85% effective, while Turkey said on Thursday that based on interim data from a late-stage trial involving 7,371 volunteers, the vaccine has an effective rate of 91.25%.
On Monday, the first 300 doses of Sinovac vaccine arrived in Turkey. In the first phase, nearly 9 million people will be vaccinated, starting with health workers and high-risk groups.
According to Dr. SerhatÜnal, an infectious disease expert served by the Turkish Coronavirus Scientific Advisory Committee, no major side effects were found during the vaccine trials conducted in Turkey, only in a case where an allergic reaction was observed.
Sinovac has also signed vaccine supply agreements with Indonesia, Brazil, Chile, and Singapore, and is negotiating with the Philippines and Malaysia.
Turkey branch
Bioahin said that in addition to BioNTech's coronavirus vaccine, the company is also involved in other research departments. He announced that the company is negotiating to open a branch in Turkey.
"We are bringing our products to Turkey for the first time. We also want to conduct research in Turkey. We are negotiating with the Turkish Science and Technology Research Council (TÜBITAK). We are also in contact with several professors from various universities. We hope to establish BioNTech in Turkey. Company." he said.
In addition to work on infectious disease vaccines, we also hope to conduct cancer research in Turkey. Hopefully, by next summer, we will start clinical research on cancer in Turkey. We have plans. We hope to achieve these goals. "
Shahin said that the company's long-term goal is to open multiple offices and conduct research and development across Turkey. He warned that life must first return to normal.
"We hope to cooperate with universities and companies in Turkey. In the first year, we may implement three projects, and if successful, we can start from there."
Şahin once again called on people not to give up preventive measures.
"We need to avoid harming others or loved ones. Help is being provided. Summer is here. We need patience. Hope we have the opportunity to return to normal life before the end of next summer. Then we will celebrate our success together."
Source link