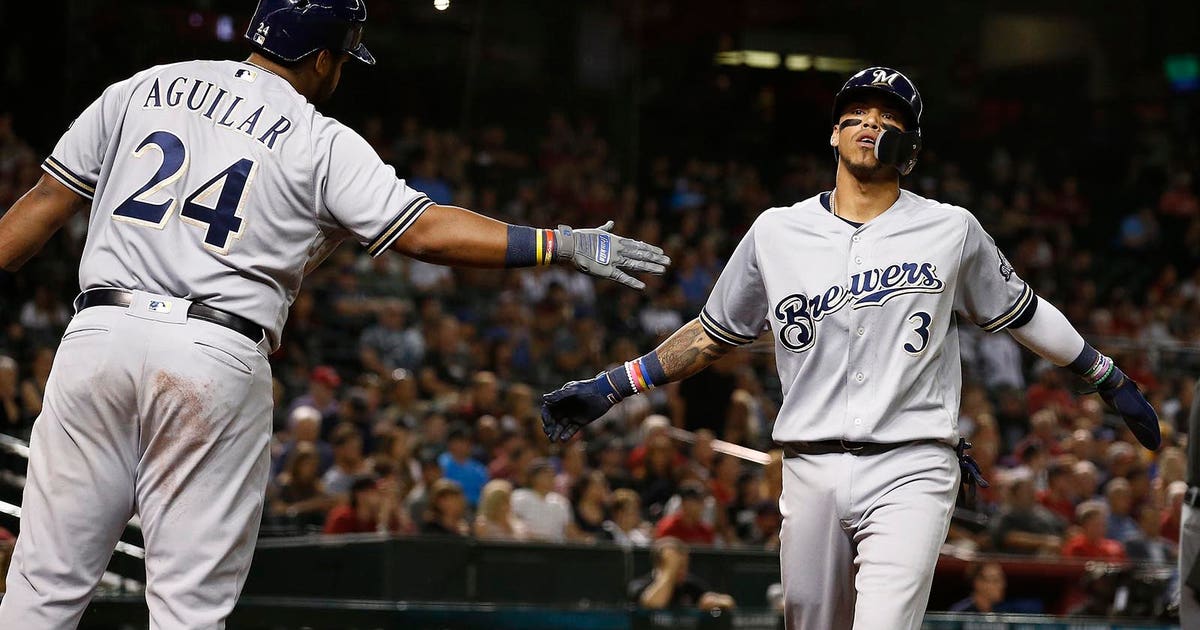 PHOENIX – If A.J. Pollock dived and missed Tyler Saladino's Drive at Center Field, Arizona was anything but sure of his sixth straight loss.
Pollock's troubling stumble could prove even more costly than the sinking Diamondbacks.
The center fielder sprained his left thumb and attempted to land Pinch-Hitter Saladino's Inside-the-Park home game in the ninth inning of the Milwaukee Brewers 7-2 win against Arizona on Monday night.
Pollock lined up for Saladino's Line Drive with two outs and the Brewers Ahead 5-2. He missed it, rolled his hand over the glove, and sat in the middle to favor his left hand as Saladino ran around the bases, headed headlong toward the club's 28th indoor park homer.
A coach led Pollock off the field, and after the game, Diamondback's manager Torey Lovullo said the initial diagnosis was a sprained thumb. Pollock had x-rays and will see a hand specialist on Tuesday.
"The coach just recommended that we get him off the pitch, I'll follow what the coach says," said Lovullo. "He seemed to give some decent feedback … he (Pollock) was not in much pain, I know that."
Pollock leads the team with a .293 average, 44 hits, 1
1 homeruns and 33 RBIs. Pollock was All-Star in 2015 and played only 12 games in 2016, having broken his elbow on a slide just before the start of the regular season and retired with a tense groin last season from mid-May to early July.
"It seemed like he was fine," said Diamondbacks outfielder Steven Souza Jr. "He's a big part of this team."
Jonathan Villar fired and scored three runs for Milwaukee. Junior Guerra (3-3) allowed two runs and went four, and the Brewers' Bullpen ended with three scoreless innings.
"If you go five or six good innings, you have a good bullpen and you have a chance of winning," Guerra said.
The Brewers went 2-5 in ninth on Villars second home run of the season, then another two with Saladino Sprint. After the game, he was showered with confetti in the clubhouse.
"It feels good because it has arrived and then it is time to get it going," Saladino said. "Everything you have, turn it on, it does not happen very often, so dig deeper than usual."
The Diamondbacks remain in first place in the NL West, but have reduced their lead since the beginning of the month from six to 1 1/2 games.
Milwaukee has won four out of five. Josh Hader lowered his ERA to 1.44 with two scoreless innings.
Christian Yelich separated from Andrew Chafin, who had a man in the seventh round. In Manny Pina he drove a 2-2 draw. After Jimmie Sherfy had loaded the bases, Domingo Santanas Fly Ball made it 4-2 to the right.
Diamondback starter Patrick Corbin (4-1) was charged with four runs on six strokes and took eight.
Villar, who was not in the lineup until Ryan Braun was scratched before the game, had three hits.
Orlando Arcia, the No. 8 hitter, delivered a two-out, two-run double by Corbin to give the Brewers a 2-0 lead in the second inning.
The Diamondbacks failed to beat Guerra until Paul Goldschmid's brace in the fourth set came when Arizona scored two goals. Daniel Descalso scored as Souza doubled the left-hand wing to make it 2-1.
Goldschmidt then trotted home with Nick Ahmed's sacrificial fly.
Goldschmidt had his first home run since April 15, but his two-out ball to the right landed in Lorenzo Cain's glove just before the fence to finish the fifth inning.
TRAINER ROOM
Brewers: Brown was in the original lineup as the left fielder Monday, but was scratched with right center-back tightness. … 1B Eric Thames spends the day before the games in the jumping training facility of the team in Phoenix with the rehabilitation of his injured left thumb.
Diamondbacks: RHP Braden Shipley (elbow) will throw a bullpen session on Tuesday. … RHP Randall Delgado (at an angle) will throw a long-shot on Tuesday and a bullpen session on Wednesday. … LHP Robbie Ray (askew) dropped 90 feet on Monday and 3B Jake Lamb (shoulder) continued his rehab job with Class A Visalia. … RHP Shelby Miller (recovery from elbow surgery) will begin another extended spring training this week.
UP NEXT
Brewers: RHP Jhoulys Chacin (3-1, 4:00 ERA) faces Arizona on Tuesday. The Brewers are 7-2 in his starts this season, with five straight wins.
Diamondbacks: RHP Zack Greinke (3-2, 3.70 ERA) is 1-3 in six starts against Brauer in his career. He has been at home 15-1 since last year.