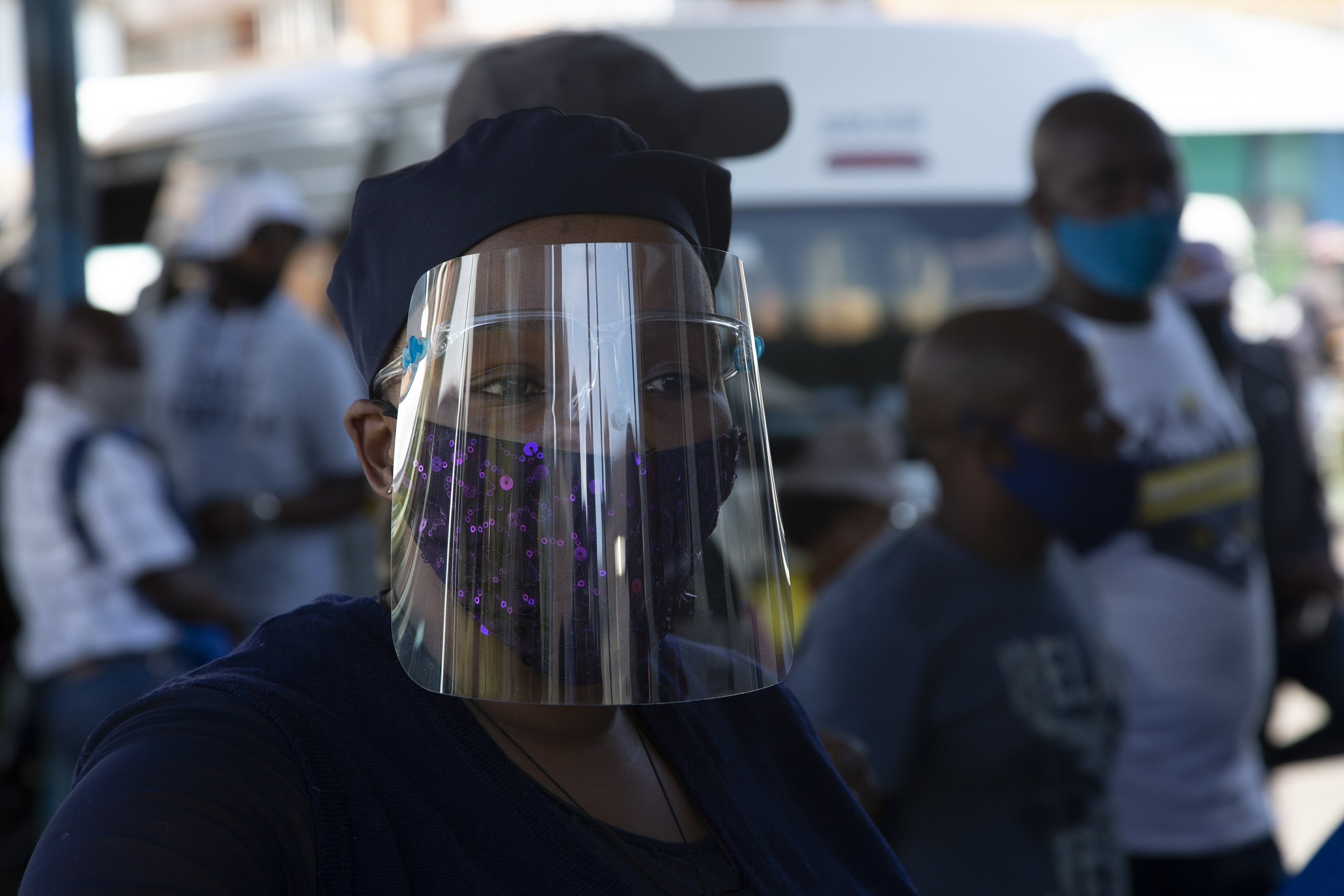 South African President Cyril Ramaphosa re-imposed the ban on alcohol sales and ordered all bars to be closed on Monday as part of new restrictions to help the country cope with the coronavirus, including new variants The revival of the virus.
Ramaphosa also announced the closure of all beaches and public swimming pools in infected hot spots in the country, including Cape Town, Johannesburg, Durban and several coastal areas. The President said that in addition, South Africa has extended the curfew by four hours, requiring all residents to be home from 9 pm to 6 am.
Reckless behavior caused by alcoholism leads to increased transmission. Alcohol-related accidents and violence are putting pressure on our hospital emergency departments,"
; Ramaphosa said in a national speech.
He said: "As we had in the early lockdown, we must now flatten the curve to protect the capacity of our healthcare system so that it can effectively respond to this new wave of infections."
Ramaphosa said that Prohibition and other new restrictions will take effect at midnight. The President said that these measures include mandatory wearing of masks in public places. Anyone who does not wear a mask in public places will be fined or criminally charged and may be sentenced to prison.
Ramaphosa said that due to the surge in COVID-19 infections, the total number of confirmed viruses in South Africa has exceeded 1 million, so increasing restrictions are necessary.
"Almost 27,000 South Africans are known to have died of COVID-19. He said: "The number of new coronavirus infections is increasing at an unprecedented rate. "Since Christmas Eve, more than 50,000 new cases have been reported. "
Ramaphosa announced the new measures after the cabinet meeting and emergency meeting of the National Coronavirus Command Committee. He said that the new restrictions will be reviewed within a few weeks, and only consider relaxing when new cases and hospitalizations decrease.
The country surpassed the 1 million mark in confirmed cases of the virus on Sunday night, when authorities reported that the total number of cases in the country during the pandemic had reached 1,004,413, with 26,735 deaths.
Like the United Kingdom, South Africa is also fighting a variant of COVID-19, which medical experts believe is more contagious than the original variant. Experts say that this variant has dominated many parts of the country.
The South African Medical Association, which represents nurses and other medical staff and doctors, warned on Monday that the health system is almost overwhelmed due to the combination of large numbers of COVID-19 patients and people in need of alcohol emergency treatment. Related events. Many holiday parties involve large amounts of alcohol consumption, which in turn often leads to more traumatic events.
"In order to reduce the pressure on the system at this time of the year, we only have backbone staff, especially in the public and private sectors. We are asking for stricter restrictions on social gatherings," Angelique Coetzee Medical Association President told Midland Society.
"South Africa has a history of alcohol abuse and overeating, especially on weekends. In some areas, this can cause many injuries, beatings, motor vehicle accidents and domestic violence."
The Medical Association calls on the government to impose stricter restrictions on the sale of alcohol, especially where large gatherings are involved.
According to government statistics, when South Africa previously banned the sale of alcohol, hospital trauma cases dropped by as much as 60%. After the ban on the sale of alcoholic beverages was lifted, the trauma cases returned to their previous levels.
During the COVID-19 resurgence in early December, South Africa restricted the sale of alcohol to between 10 am and 6 pm from Monday to Thursday. The country also imposes a curfew every night from 11pm to 4am.
Various wine merchants urge the government to avoid a total ban on alcohol sales on the grounds that the government will cause economic losses. South Africa's alcohol industry is one of the hardest hit. The country imposed a blockade in April and May and banned all liquor sales.
In the past two weeks, the seven-day rolling average of daily confirmed cases in South Africa has increased from 11.18 new cases per 100,000 people on December 13 to 19.87 new cases per 100,000 people on December 27.
In the past two weeks, the country's seven-day average daily death toll has increased from 0.26 deaths per 100,000 people on December 13 to 0.49 deaths per 100,000 people on December 27.
Ramaphosa urges people to avoid New Year's Eve parties. Instead, he asked all South Africans to light candles.
He said: "I will light a candle in Cape Town at exactly midnight on New Year's Eve to commemorate those who lost their lives and pay tribute to those who worked on the front lines to save our lives and protect us from harm." "I request that wherever you are, you must join me with this very important symbolic gesture."
Source link