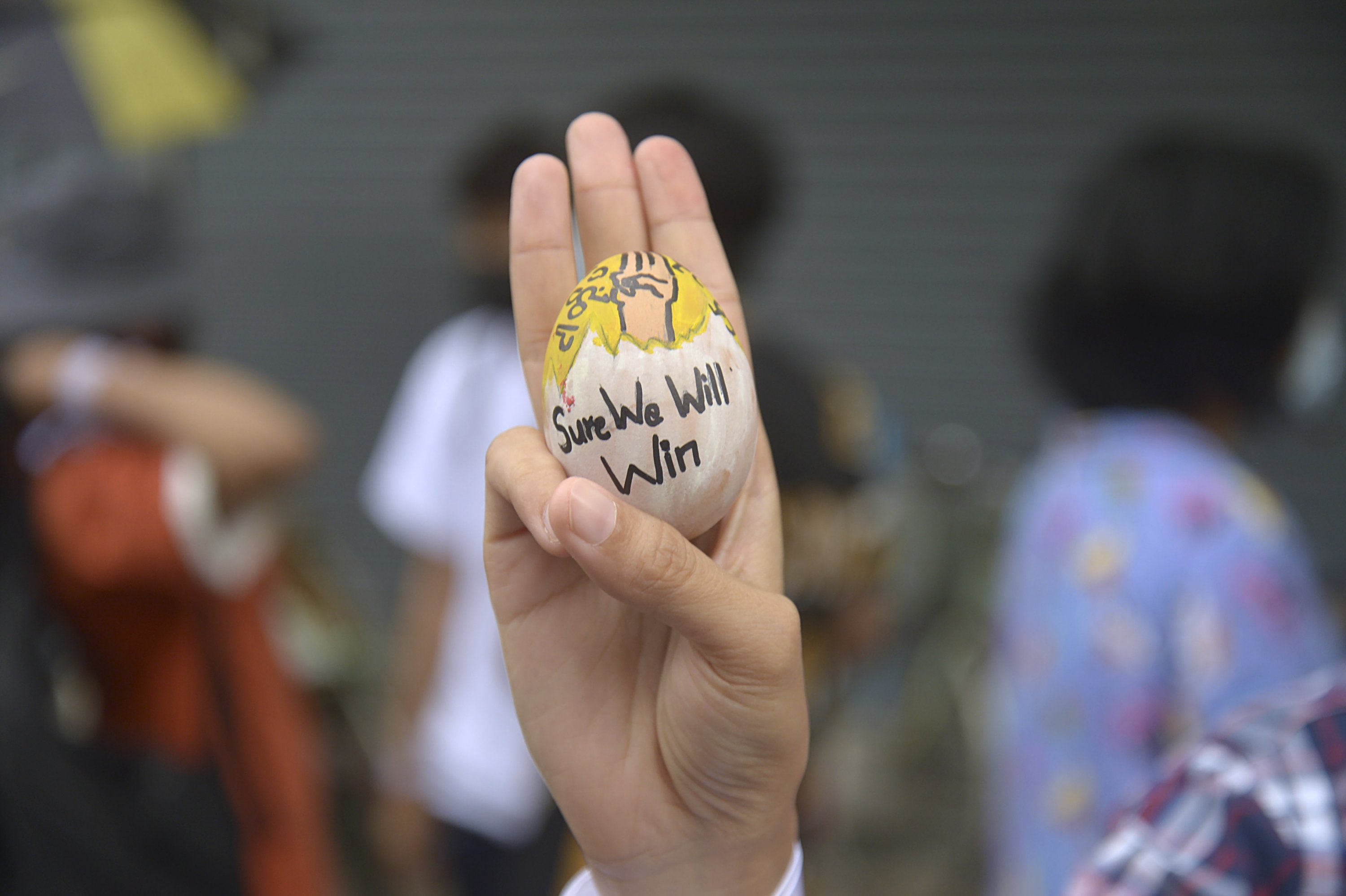 Yangon, Myanmar — Anti-coup demonstrators in Myanmar are good at finding themes, linking protests across the country, taking to the streets holding painted eggs to pay tribute to the Easter holiday on Sunday.
In Yangon, the largest city, a group of people marched through the Insein district, chanting protest songs and eggs with the slogan "Spring Revolution" written on it. Many eggs also have three-finger salute pictures, symbolizing resistance to the February 1 coup d'état.
At dawn in Mandalay, the country's second largest city, demonstrators gathered on motorcycles to protest against the seizure of power to overthrow the democratically elected government.
The Independent Political Prisoners Aid Association stated that the Myanmar military has severely suppressed protesters and other opposition groups. Since the coup, the latest civilian casualties are 557. The organization said that more than 2,750 people have been detained or sentenced.
Local news media Khit Thit Media reported that on Sunday, security forces opened fire on a group of protesters in Pyinmana, central Myanmar, killing at least one person.
In his speech at St. Peter's Cathedral on Easter Sunday, Pope Francis stated that "Myanmar's young people are committed to supporting democracy and expressing their voice peacefully because they know that hatred can only be eliminated through love."
The so-called "Easter Egg Strike"
; on Sunday comes after other theme days. These include "flower strikes" and "silent strikes," in which protesters lay flowers in public places to commemorate those killed by security forces; "silent strikes" in which people across the country do nothing.
A UN special envoy named Dr. SaSa posted on Twitter an image of a painted egg and wrote that the Burmese people "have a great future in a federal democracy", which reflects the resignation of the military and its restoration. Hope. Democratic system.
The security forces continue to spread fear among ordinary citizens. Overnight, residents of Yangon City recorded a video of a group of soldiers and policemen. They used slings to shoot stones on the windows of houses, breaking the silence of the night. At other times, soldiers and police carried out raids on communities at night to maintain intimidation, during which time they shouted abuse, shot at random, arrested and destroyed property.
On Saturday, police opened fire in Moniva in central Myanmar and elsewhere, killing several protesters.
With most Internet access restricted or severely restricted by the military government, it is increasingly difficult for the people of Myanmar to understand their plight from the outside world.
After several weeks of overnight Internet interruption, on Friday, the military closed all links except all links using fiber optic cables, and the working speed of fiber optic cables was greatly reduced. On Sunday, access to mobile networks and all wireless devices (the lower-cost option used by most people in developing countries) remained blocked.
Source link