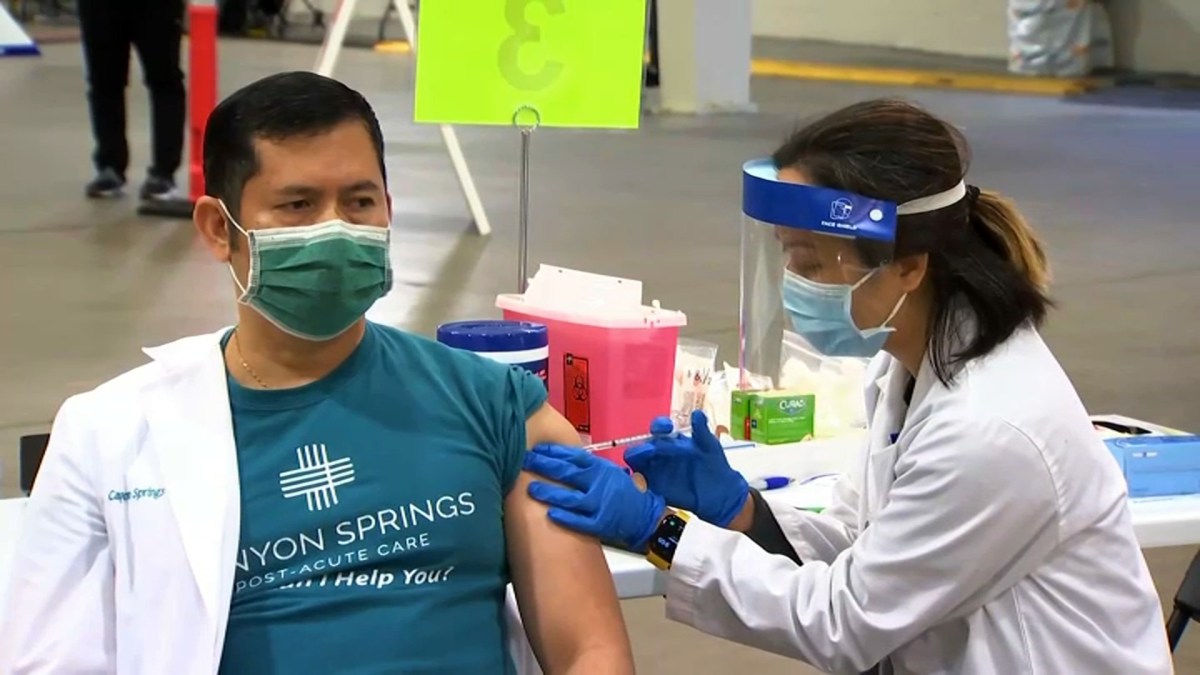 Santa Clara County government officials urge all health care workers in the county to now be eligible for the COVID-19 vaccine.
The news comes after the state public health department expanded the scope of eligibility on Thursday to include all medical staff at any level in the vaccine distribution phase 1A.
This means people in the second and third levels of stage 1A, including those in intermediate care facilities, community health workers (including promotoras), public health field workers, primary care clinic workers, specialist clinics, laboratories, Staff in dental clinics and pharmacies can get the vaccine.
Initially, only staff in emergency hospitals and dialysis centers, medical emergency personnel, and staff and residents in long-term care facilities were eligible to use the vaccine.
County Supervisor Otto Lee said: "We are very happy to see that the early launch of the vaccine has protected many of our most important and dangerous workers."
; "Now, the pool is getting bigger and the county is cooperating with other health care systems. Partners are stepping up to meet this growing demand."
There are approximately 140,000 health care workers in Santa Clara County, of which 47,000 have already received the first dose of COVID-19 vaccine-the county health officer and director of public health, Dr. Sara Cody, said this number represents "a huge improvement." .
Cody said: "Despite the fact that we are in extreme difficulties with COVID-19 cases and hospitalization, and the first batch of vaccines arrived during the holidays." "The county's health care system is in the first stage A Great progress has been made in personnel vaccination during the first phase."
So far, the county's health care system has received 110,280 doses of the first dose and 17,320 doses of the second dose of COVID-19 vaccine. Kaiser Permanente and Sutter Health also received other vaccines delivered directly to them.
Most health care workers are eligible to receive the vaccine through their employer, but those who don't can get the vaccine through the county.
Residents of long-term care facilities are being vaccinated through the federal government's Pharmacy Partnership for Long-care Care Program.
As more vaccines are shipped to the county, there will be more dating opportunities, and they will be shipped every week.
By the end of next week, the county's health care system alone is expected to reach 4,000 vaccinations per day, and the capacity will increase in the coming weeks.
Dr. Jennifer Tang, Deputy Chief Medical Officer of Santa Clara Valley Medical Center Hospital and Clinic, said: "We will open multiple clinics across the county and hope to open more mass vaccination facilities in the near future."
Once the vaccine is provided to people in Phase 1 A, the state will allow vaccination in Phase 1 B, which includes people over 75 years of age as well as other "first-line basic workers" engaged in education, childcare, emergency services, and food work. And agriculture.
The second stage of Phase 1B will include adults aged 65 to 74, people who are imprisoned and without housing, and those engaged in transportation, important manufacturing and other industries that may be at risk of work.
Despite this, health care officials are still begging the public to continue to follow the health orders and safety protocols for COVID-19.
"The progress we have made so far in vaccinating health care workers has given us great hope, but we must remain vigilant until most of our communities have been vaccinated. We all need to work together to achieve this Goal, but we will achieve it." said Marty Fenstersheib, COVID-19 testing and vaccine officer in Santa Clara County.
To learn more about vaccines or make an appointment in the county, click here.