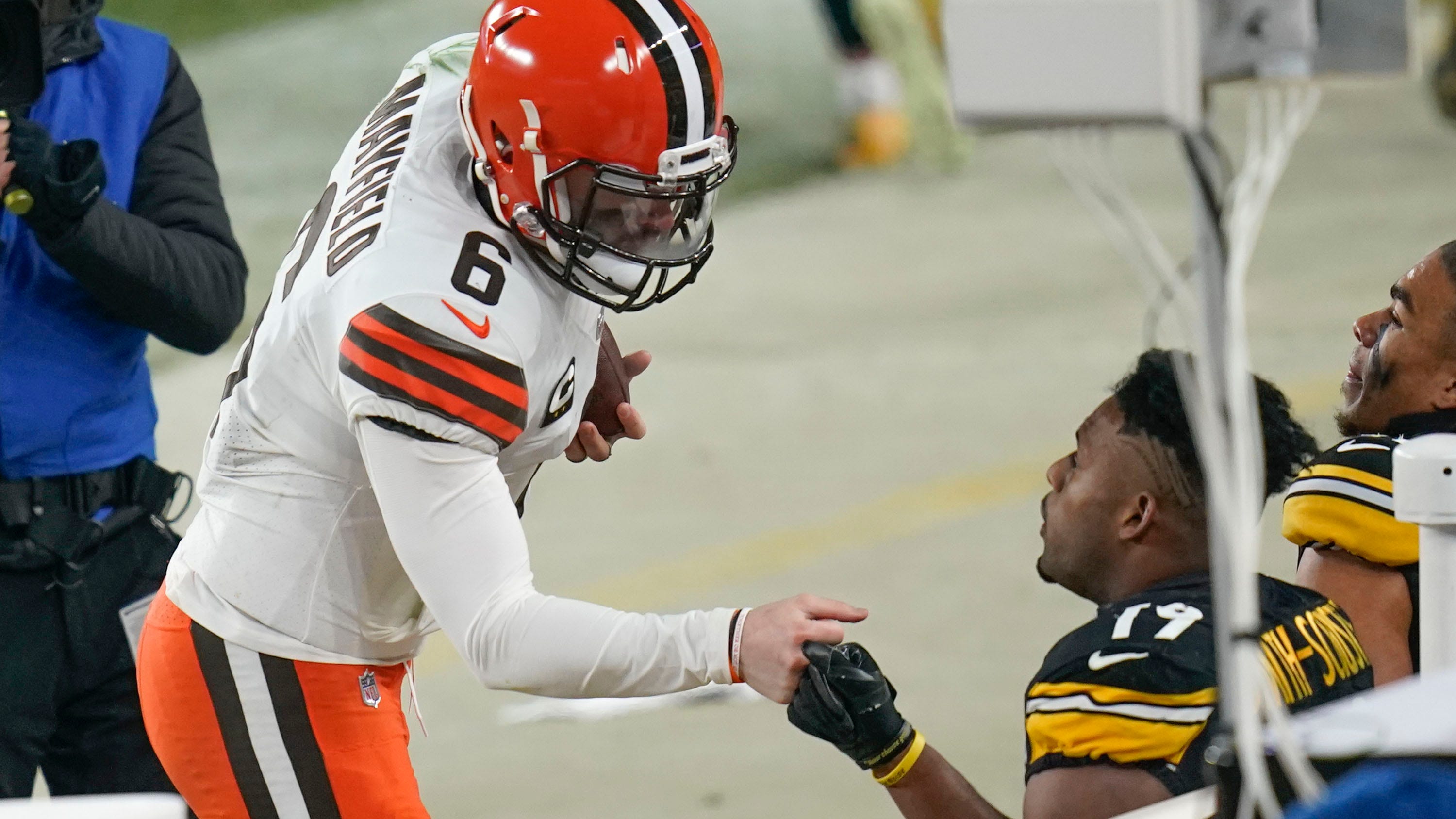 The Cleveland Browns' playoff celebrations on Sunday night focused on the Pittsburgh Steelers' JuJu Smith-Schuster, which was triggered by his notorious "Browns are the Browns" statement earlier this week, but A fourth-grade successor still seems to insist that these comments lost 48-37.
After leading Cleveland into the first division game since 1995, Brown quarterback Baker Mayfield rushed back to the locker room and shouted "Brown is Brown".
Before winning the playoffs, Brown's Baker Mayfit was eager to rebound offense
After entering the dressing room, Jarvis Landry mocked Smith-Schuster's popular "Corvette, Corvette"
; TikTok dance, while the other teams regarded the song as theirs An informal celebration of the national anthem.
The Browns were selected when Smith-Schuster first made himself the target of the foreign card round. He told reporters that he was not worried about hitting Cleveland.
Click here for more sports coverage on FOXNEWS.COM
He said: "I think they are still the Browns I play every year." "I think they are nameless gray faces. Their team has a few good players, but in the end I don't know. Brown is Brown."
After being proven wrong on Sunday night, Smith-Schuster did not flinch his remarks, but said that the Browns performed well.
He said at the press conference after the game: "I don't regret saying what I said." "I said,'The Browns are the Browns'. They came out to play in a hell."
Click here for the FOX News App
Smith-Schuster continued: "In some games, you lost some and won some. Today is not our night." "I hope the same Brown team will appear in front of the next opponent. They will go out and do what they did tonight. The same thing, play a hell."
Although this may not be the most elegant concession speech, the Browns are happy to advance to the AFC Divisional Game, where they will face the defending Super Bowl champion Kansas City Chiefs on Sunday at 3:05 pm Eastern Time.
Source link