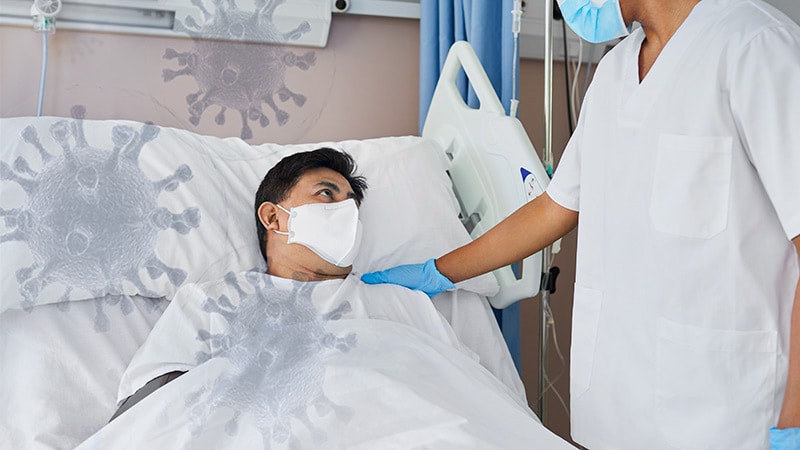 Find the latest COVID-19 news and guidance in Medscape's Coronavirus Resource Center.
Researchers reported in a study in Italy that, for unknown reasons, about one in six people who recovered from COVID-19 then returned to be positive at least 2 weeks later.
Sore throat and rhinitis are the only symptoms associated with a positive result. The first author, Francesco Landi, MD, told the doctor: "In particular, patients who continue to show respiratory symptoms are more likely to get new positive test results." Medscape Medical News.
He said: "This shows that in all patients who are considered to have recovered from COVID-1
9, the persistence of respiratory symptoms should not be underestimated, but should be fully evaluated."
Dr. Akiko Iwasaki, an immunobiologist at Yale University and the Howard Hughes Medical Institute, told reporters: "The results of this study are very interesting." Medscape Medical News. "There are other reports about RNA testing after discharge, but this study…found that only two symptoms (sore throat and rhinitis) were higher in PCR-positive status."
The research report was published online on September 18 at American Journal of Preventive Medicine.
These findings may have important implications for those who continue to have symptoms. Randy, an associate professor of internal medicine at the Catholic University of the Sacred Heart in Rome, Italy, said: "It is reasonable to proceed with caution, avoid close contact with others, wear a mask, and possibly have another nasopharyngeal swab."
Dr. Jonathan Karn, Professor and Chair of Case's Department of Molecular Biology and Microbiology, said: "One of the most interesting findings is that persistent symptoms are not related to PCR positives, which suggests that the symptoms are not due to viruses in many cases. Is caused by the continued replication of the disease." Western Reserve University School of Medicine in Cleveland, Ohio told Medscape Medical News When asked for comment.
Kahn said: "The key technical issue they discussed is that the viral RNA signal in PCR detection does not necessarily mean that there is an infectious virus." He added that a new comprehensive viral RNA analysis is needed to answer this question.
Official COVID-19 recovery
In order to determine risk factors and COVID-19 survivors are more likely to retest positive, Landi and Gemelli objected to members of the COVID-19 Post-Acute Care Research Group who evaluated 131 people after discharge.
All participants met the World Health Organization's standards for isolation, which included two negative test results at least 24 hours apart, and the study was conducted between April 21 and May 21. The average age is 56 years and 39% of women. The average BMI of the positive group was slightly higher than 27.6 kg/m2, and the negative group was 25.9 kg/m2.
Although 51% of survivors reported fatigue, 44% dyspnea and 17% cough, there was no significant difference in the ratio between the two groups. In contrast, 18% of positive survivors and 4% of negative survivors had sore throats (P = .04), 27% and 12% respectively reported rhinitis (P = .05).
An average of 17 days after the second negative swab test, people returned for follow-up.
Asymptomatic carriers of COVID-19?
The researchers pointed out in the paper: "These findings indicate that a certain percentage of recovered patients with COVID-19 may still be asymptomatic carriers of the virus." "Even without specific guidance, it is recommended that 22 cases of COVID-19 be treated again. Patients who tested positive for -19 will be isolated for the second time."
No close contact of family members or positive survivors reported SARS-CoV-2 infection. The researchers pointed out that all patients continue to wear masks and follow the advice of keeping distance from society, which makes it "difficult to determine whether these patients are infectious."
next pace
The authors write that evaluating all COVID-19 survivors to identify anyone who retests positive "will be a key role in a better understanding of the natural history of COVID-19 and the impact of viral shedding on public health."
One research limitation is that RT-PCR testing revealed a genetic sequence specific to COVID-19. The researchers pointed out: "It is important to emphasize that this is not a virus culture. It is not certain whether the virus is viable and transmissible."
They added: "In this regard, we are trying to better understand whether the durability of the long-term positive RT-PCR test for COVID-19 is indeed related to potential infectivity."
Randy and colleagues said that their findings should be considered preliminary, and it is necessary to use a larger sample of data to verify the results.
Landi and Karn disclosed no relevant financial relationships. Iwasaki disclosed a research grant from Condair, a 5% or higher equity in RIGImmune and PureTec's income of $250 or more.
I am J Preventive Medicine. Published online on September 18, 2020.full text
Damian McNamara is a journalist based in Miami. He covers a wide range of medical specialties, including infectious diseases, gastrointestinal diseases and rheumatism. Follow Damian on Twitter: @MedReporter.
For more news, follow Medscape on Facebook, Twitter, Instagram and YouTube.