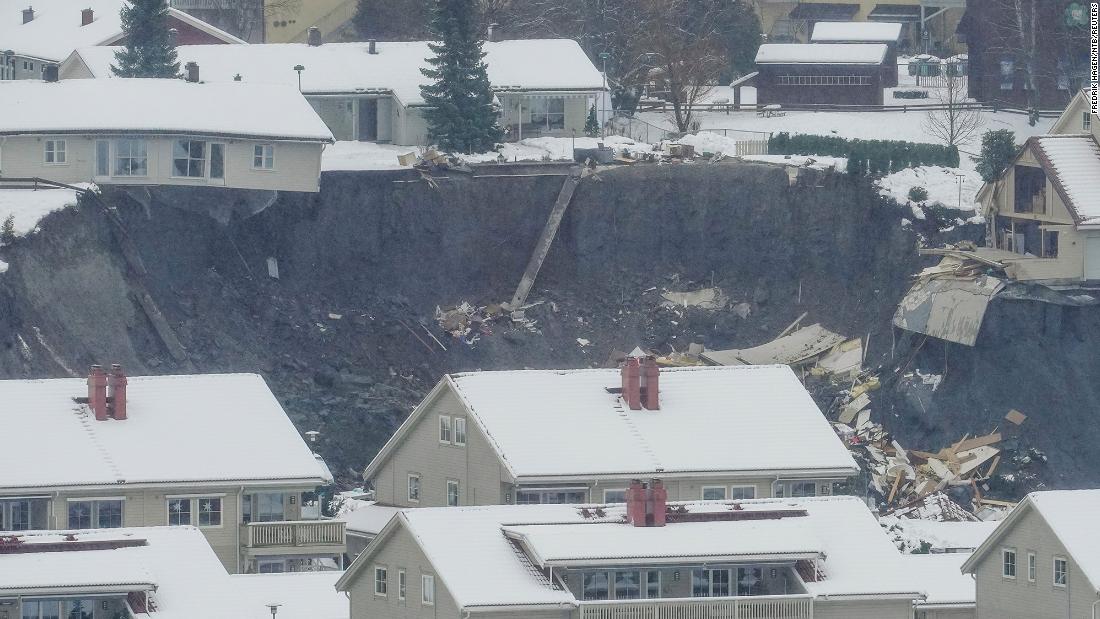 The landslide hit a residential area in Giedrum, about 30 kilometers (19 miles) north of the capital Oslo. Police say more than 900 people have been evacuated from the area.
Police said rescuers continued to search for children and adults in the area, who were suspected of being trapped in mud and debris.
Police spokesman Roger Paterson said at a press conference: "We are pretty sure there are people in the disaster area, but we don't know if all 11 people are there or if there are fewer people."
He said: "We are still looking for survivors."
The photos of the site show a large crater with destroyed buildings at the bottom. TV pictures showed that other buildings were hanging on the edge of the crater. The broadcaster NRK reported that two other houses fell into the crater on Wednesday afternoon.
Norwegian King Harald said that the landslide left a deep impression on him.
The 83-year-old monarch said in a statement issued by the royal family: "My idea is to join all those who have been affected, injured or lost their homes and those who are now afraid and uncertain about the full scope of this disaster. Life."
; Palace.
As night fell, helicopters continued to hover over the area, sometimes trapping emergency responders in the rubble of collapsed houses.
Prime Minister Erna Solberg told reporters after visiting the website: "Someone may be trapped… But at the same time we can't be sure because it's the New Year's holiday, which means people may be in other places. ."
Local residents talked about their experiences.
68-year-old Oeystein Gjerdrum told NRK: "There were two major earthquakes that lasted for a long time. I thought I was clearing snow or something like that."
"Then, the power was suddenly cut off, and a neighbor came to the door and said we need to evacuate, so I woke up my three grandchildren and told them to get dressed as soon as possible."
Toril Hofshagen, regional director of the Norwegian Water and Energy Agency, said at a press conference that the earth is still moving and this is the largest clay slide in Norwegian history recently.
Source link